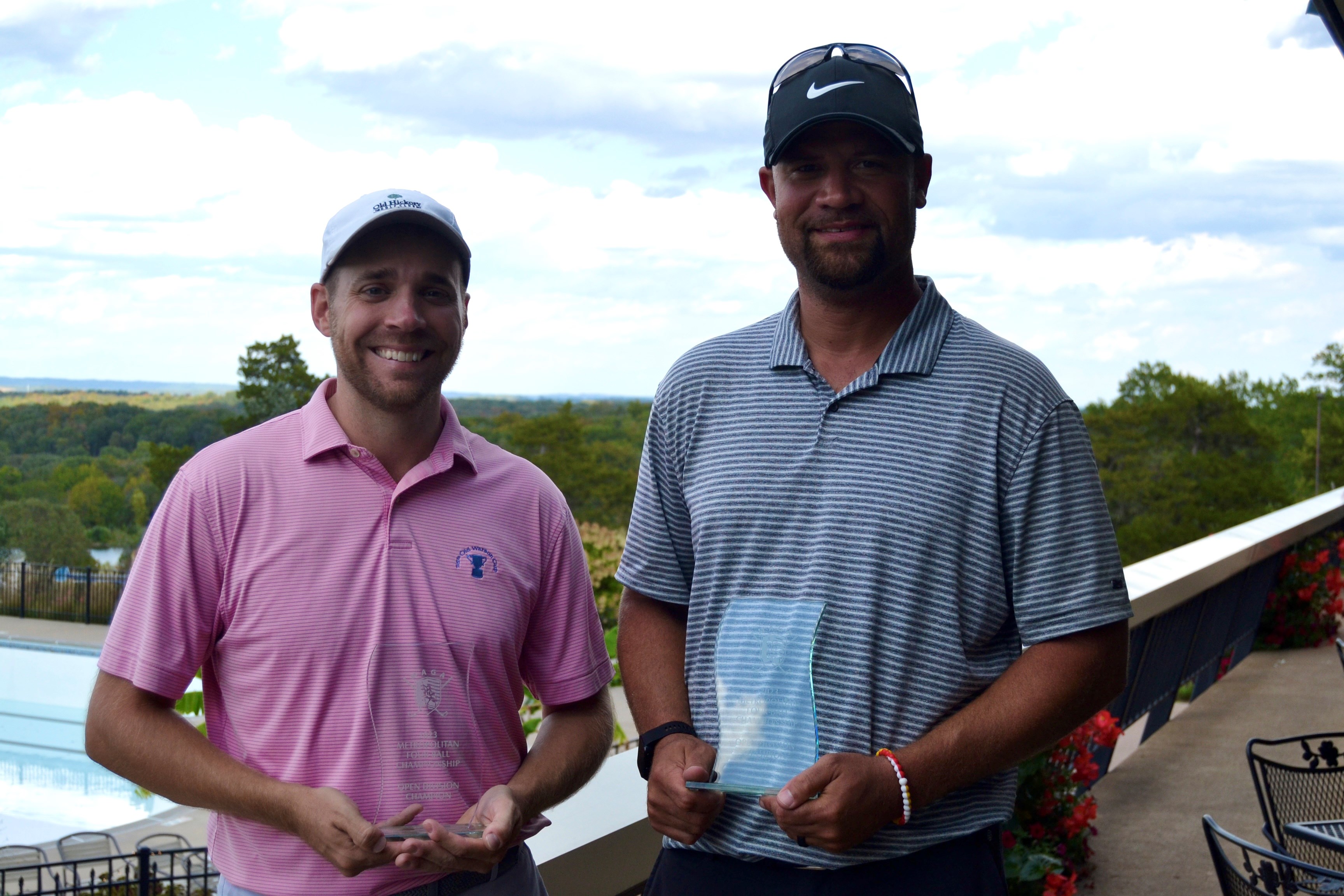 Kovach & White Win the 14th Metropolitan Four-Ball Championship
Washington, MO
- Another sunny day at Franklin County Country Club for the 14th Metropolitan Four-Ball Championship. Thirty-one teams returned for the second and final round. All teams went off of the first tee between 7:30am and 10:30am. The championship was complete by 3:30pm.

The Net Division concluded their rounds first. Round 1 leaders, Chad Menke and Mark Kern began the day at seven-under (-7) par and pressed on to produce a second round that could not be caught. The pair claimed the title with a second round of six-under (-6) par, bringing their total to thirteen-under (-13) par. Coming in nine strokes back were Charlie Scheipeter and Scott Dreher at four-under (-4) par to be the runner-ups.
The Round 1 leaders in the Senior Net Division also managed to keep their lead. Curt Wooters and Matt Hall began their day at ten-under (-10) par. A tougher day for the pair, but they still shot one-under (-1) par for the day and eleven-under (-11) par total to champion the division. Michael Mervis and Tim Leonberger shot back-to-back four-under pars to be the runner-ups at eight-under (-8) par.
The Senior Division was the third group to come in to the clubhouse. Tony Nolfo and David Strickland pulled out a second score of 66, five-under (-5) par to claim the division title with a total of ten-under (-10) par. After Round 1, they were tied with Joseph Malench and Kyle Viehl who were just not able to overtake them. Malench and Viehl shot a Round 2 score of three-under (-3) par to finish as the runner-ups at eight-under (-8) par.
The Open Division was a battle to the finish. Round 1 leaders Chris Kovach and Jason White started the day at seven-under (-7) par. They were put to the test by playing partners Ryan Eckelkamp and Kyle Weldon. Through nine holes, the two pairs were tied at the top and remained tied through 12 holes. Hole 13 is when Kovach and White retook the lead and pressed on. Kovach and White would finish the day with a score of six-under (-6) par and a total of thirteen-under (-13) to be the Champions. Eckelkamp and Weldon finish the championship at ten-under (-10) par to be runner-ups.