This page is dedicated to the Mid-America Junior Cup
An annual competition between Metropolitan Amateur Golf Association (MAGA) and Central Links Golf (CLG), formerly the Kansas City Golf Association (KCGA).
2021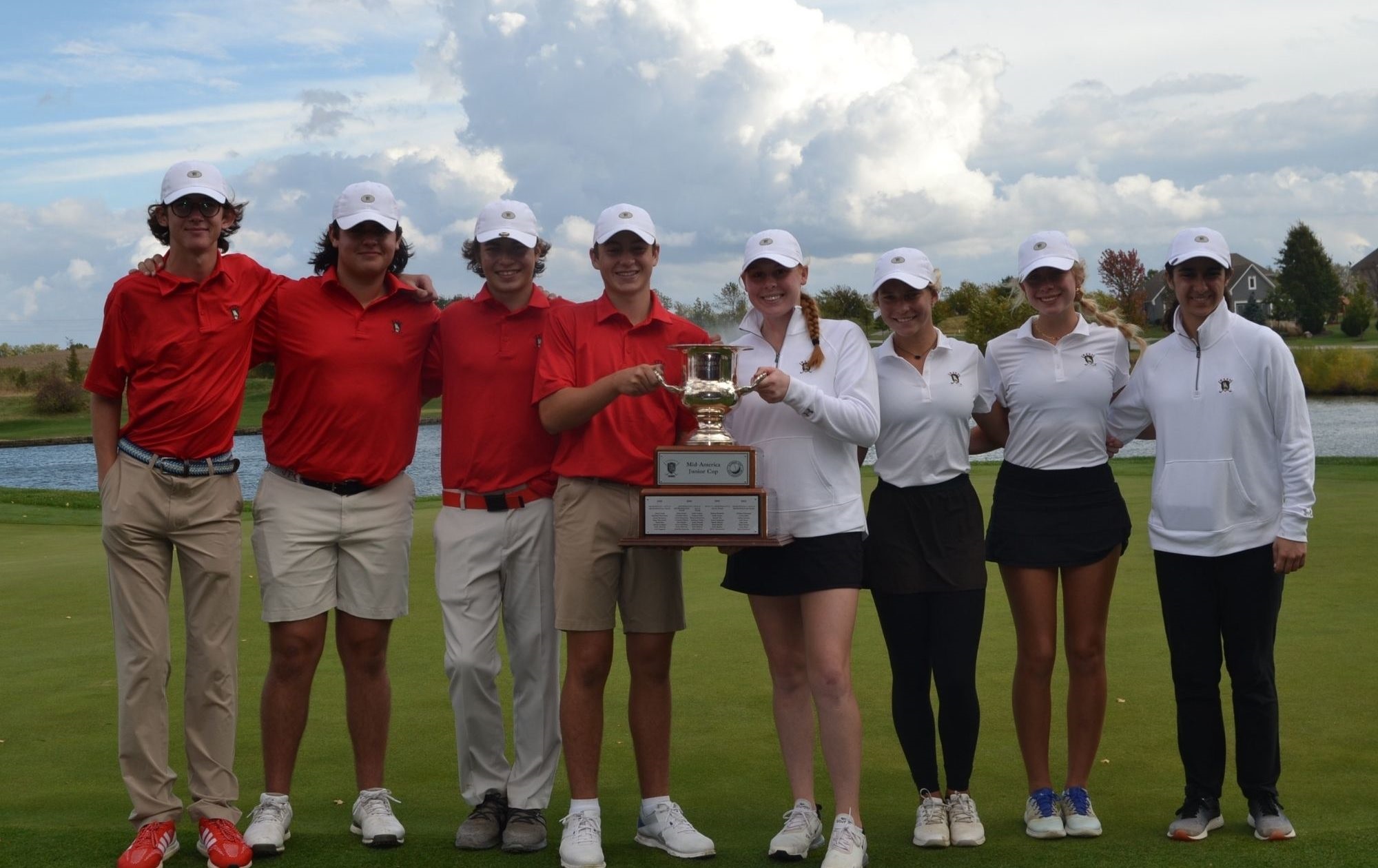 2020

2019

2018

This competition began in 1999 as an effort to showcase the top juniors from each Associations respective regions. The event was created to foster camaraderie and sportsmanship between MAGA and KCGA.
The record of the matches as of 2021 is:
MAGA – 10
CLG – 9
Ties – 4
Past Results
| Year | Site | MAGA Points | KCGA Points | Winner | Results |
| --- | --- | --- | --- | --- | --- |
| 1999 | Blue Hills Country Club | 7 | 1 | MAGA | |
| 2000 | Norwood Hills Country Club | 2 | 2 | MAGA | |
| 2001 | Oakwood Country Club | 0.5 | 7.5 | KCGA | |
| 2002 | Missouri Bluffs Golf Club | 5 | 3 | MAGA | |
| 2003 | Kansas City Country Club | 5 | 3 | MAGA | |
| 2004 | Forest Hills Country Club | 7 | 1 | MAGA | |
| 2005 | Indian Hills Country Club | 4.5 | 3.5 | MAGA | |
| 2006 | WingHaven Country Club | 6.5 | 1.5 | MAGA | |
| 2007 | Loch Lloyd Country Club | 4 | 4 | Halved (MAGA Retains Cup) | |
| 2008 | Glen Echo Country Club | 3 | 5 | KCGA | |
| 2009 | Milburn Country Club | 2 | 6 | KCGA | |
| 2010 | Algonquin Golf Club | 1.5 | 6.5 | KCGA | |
| 2011 | Mission Hills Country Club | 4.5 | 3.5 | MAGA | |
| 2012 | Bellerive Country Club | 6 | 2 | MAGA | |
| 2013 | Blue Hills Country Club | 2 | 6 | KCGA | |
| 2014 | Fox Run Golf Club | 4 | 4 | Halved (KCGA Retains Cup) | |
| 2015 | Nicklaus GC at Lionsgate | 3.5 | 4.5 | KCGA | |
| 2016 | St. Louis Country Club | 3 | 5 | KCGA | |
| 2017 | Shadow Glen Golf Club | 4 | 4 | Halved (KCGA Retains Cup) | |
| 2018 | Bogey Hills Country Club | 7 | 9 | KCGA | Results |
| 2019 | Kansas City Country Club | 3 | 13 | KCGA | Results |
| 2020 | Lake Forest Country Club | 8 | 8 | Halved (CLG Retains Cup) | Results |
| 2021 | Falcon Lakes Golf Club | 9.5 | 6.5 | MAGA | Results |
| 2022 | Bogey Hills Country Club | | | | |