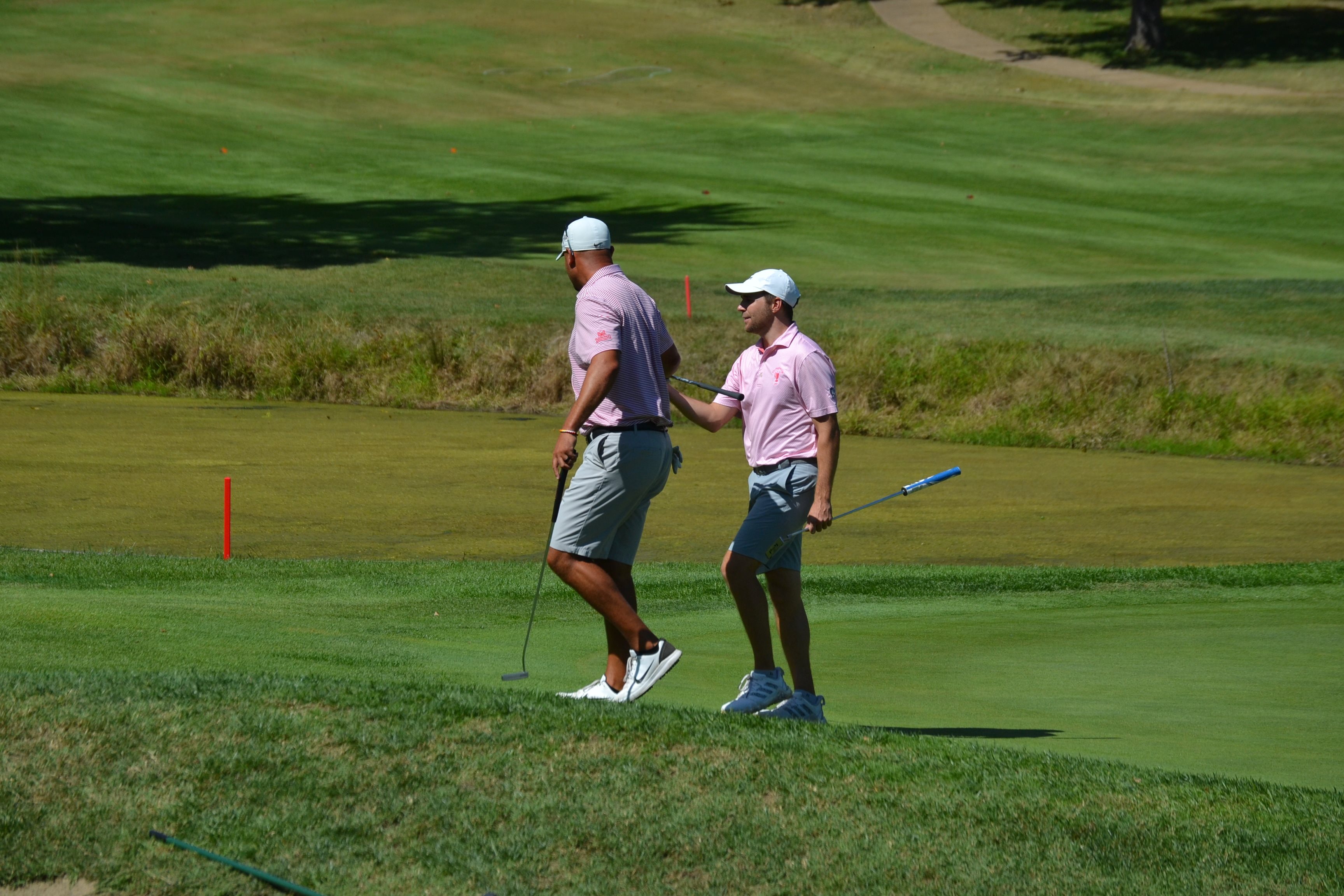 Kovach & White Lead the Metropolitan Four-Ball
Washington, MO
- It was a beautiful day for golf at Franklin County Country Club, with sunny skies and temperatures in the mid-eighties. All competitors for the 14th Metropolitan Four-Ball gathered for a shotgun start at 10:00am. There are thirty-two teams amongst four divisions in the championship.
In the Open Division, Chris Kovach and Jason White got off to a hot first round start with a score of seven-under (-7) par. Kovach helped his side sit on the top with a two-stroke lead by making an eagle on Hole 4. Sitting two back is the side of Ryan Eckelkamp and Kyle Weldon. The pair finished the day with a score of five-under (-5) par. Still not out of the race is the side of Ryan Schuenke and John Moore in third at four-under (-4) par.
There is a tie at the top following Round 1 in the Senior Open Division between the side of Joseph Malench and Kyle Viehl and the side of Tony Nolfo and David Strickland. Both teams pulled together rounds of five-under (-5) par. The side of Tom Barry and David Pfeil and the side of defending champions Buddy Allen and Brian Lovett sit two back at three-under (-3) par. These two teams are tied for third. Three strokes back of the lead in fifth place are David Bremer and John Hughes at two-under (-2) par.
In the Net Division, Chad Menke and Mark Kern have a hefty lead over their competitors. The pair sit at the top at seven-under (-7) par. Sitting in second at one-under (-1) par are Kyle Gaffney and Michael Gualdoni. The side of Mike Levin and Peter Robinson and the side of Charlie Scheipeter and Scott Dreher are tied for third at one-over (+1) par.
Also putting a strong lead between themselves and their competitors are Curt Wooters and Matt Hall in the Senior Net Division. Wooters and Hall shot ten-under (-10) par. Following behind at five-under (-5) par in second is the side of Donald Walker and Sam White. Michael Mervis and Tim Leonberger are in third at four-under (-4) par.