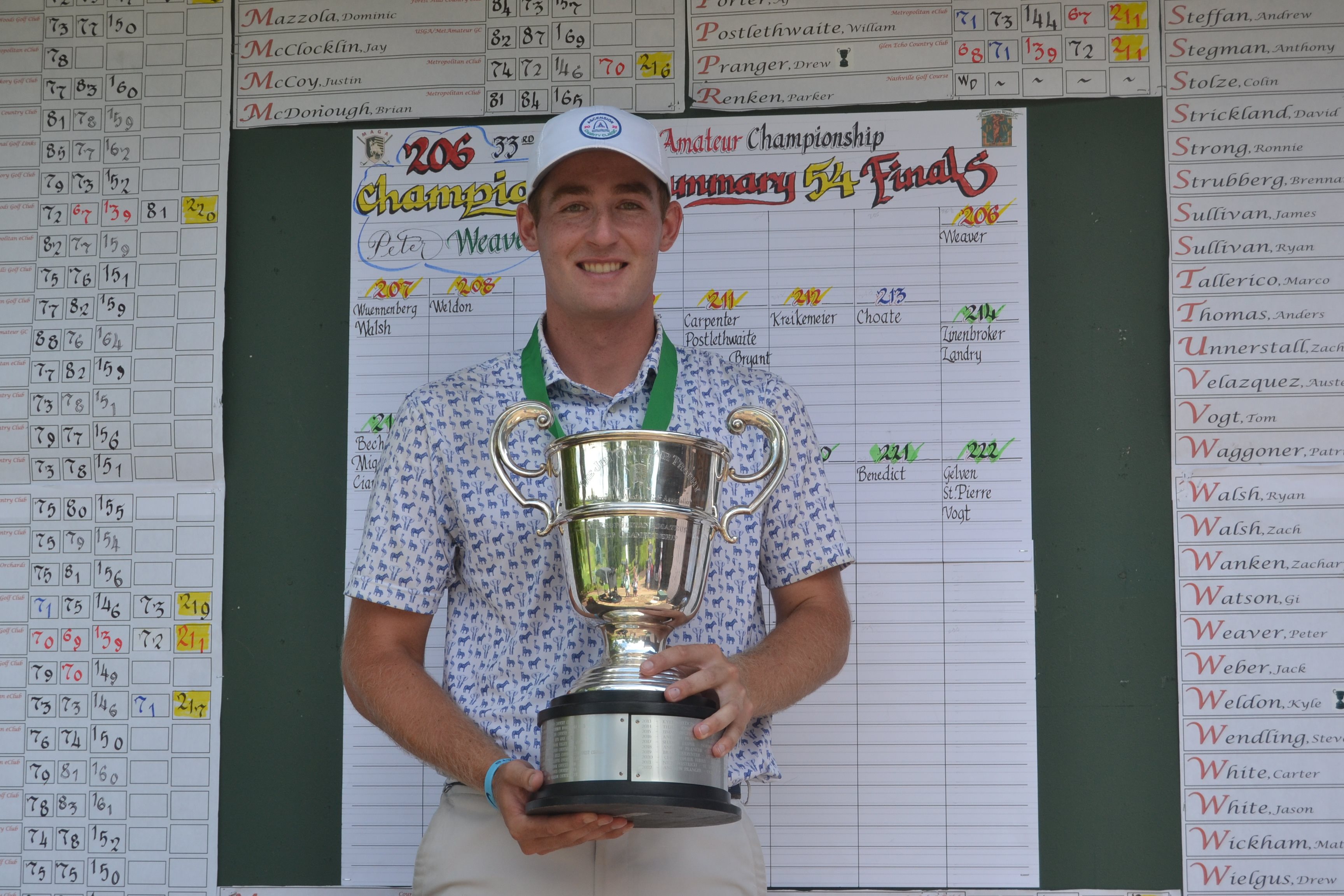 Weaving His Way to the Top
Weldon Spring, MO
- The Final Round of the 33rd Metropolitan Amateur Championship has come to a close. It was a great day for golf with partly cloudy skies and a cool breeze to help combat the heat. The first two rounds of the championship included record breaking rounds and tight competition. Round three was no different when it came to the stiff competition with players continually moving up and down the leaderboard throughout the day. After Round 1, Sam Midgal of Norwood Hills Country Club led the pack with a score of seven (-7) par. By the end of Round 2, a new leader found the top of the leaderboard. Zach Walsh of Forest Hills Country Club came in with a day two round of six-under (-6) par, giving him a three-shot lead at eight-under (-8) par. Following Round2, a cut was made at five-over (+5) par, which allowed 41 players to make the cut. With incredible golfers still filling the field, players set out with the intent to battle to the finish line for the Jim Tom Blair Trophy.
Round 2 leader Zach Walsh started his day off strong with a birdie on the first hole. Things were looking good for Walsh after finishing Hole 7 with another birdie and no bogeys to show for, which brought his score to ten-under par. Unfortunately, a rough stretch left him unable to find a birdie on the back nine. Walsh finished his round two-over (+2) par, ultimately leaving him to finish the championship tied for second at six-under (-6) par. Walsh was joined in company at second place at the conclusion of the day by Thomas Wuennenberg of the Metropolitan eClub. Wuennenberg showed he is nothing but consistent with his three round scores, finishing each day with a score of 69, two-under (-2) par. Though his rounds were not without challenges, Wuennenberg's ability to inch two-strokes closer to the lead each day found him a second place finish at six-under (-6) par.
Peter Weaver of Bellerive Country Club began the day tied for second at five-under (-5) par. Weaver has shown throughout the summer that he knows how to remain in control during a final round. Despite a bogey on Hole 3, Weaver remained calm to bring in three birdies and a bogey-free back nine. It was not even until around Hole 16 that Weaver knew where he stood on the leaderboard. Once he knew he was not far back, he produced a birdie on Hole 17 to get to seven-under (-7) par. After turning in his scorecard, Weaver still had to wait for Walsh to come up 18, who was just one-stroke back. Waiting for the final putts to drop, Weaver looked on as Walsh just narrowly missed a putt for birdie on the last hole, which officially gave Weaver the title. Championing the Metropolitan Amateur caps off a great summer for Weaver as he becomes the first person to win this championship, as well as, the Missouri Amateur and the St. Louis District Golf Association Championship in the same year. Skip Berkmeyer is the only other player to have won both the Metropolitan Amateur and the Missouri Amateur in the same year. Weaver will return to school, where he plays on the Villanova University golf team, with the Jim Tom Blair trophy in hand.
There were some great rounds of golf out on the course today, with fourteen players carding a score of even par or better for the round. Fourteen players also finished the championship with a gross score of even par or better. The lowest score of Round 3 came from William Postlethwaite and Brad Carpenter at four-under (-4) par. Both Postlethwaite and Carpenter finished the championship tied for sixth at two-under (-2) par. Joining them at tied for sixth were Drew Wielgus, Sam Migdal, Drew Pranger, Kevin Jeske, and Justin Bryant. Ryan Sullivan returned another round under par to land in fifth place at three-under (-3) par. While Kyle Weldon also brought in a round in the red digits to finish in solo fourth place at four-under (-4) par.
After a whirlwind of a championship, featuring weather delays, broken records, friendly competition, and incredible golf, Peter Weaver stands triumphant as the 33rd Metropolitan Amatuer Champion.