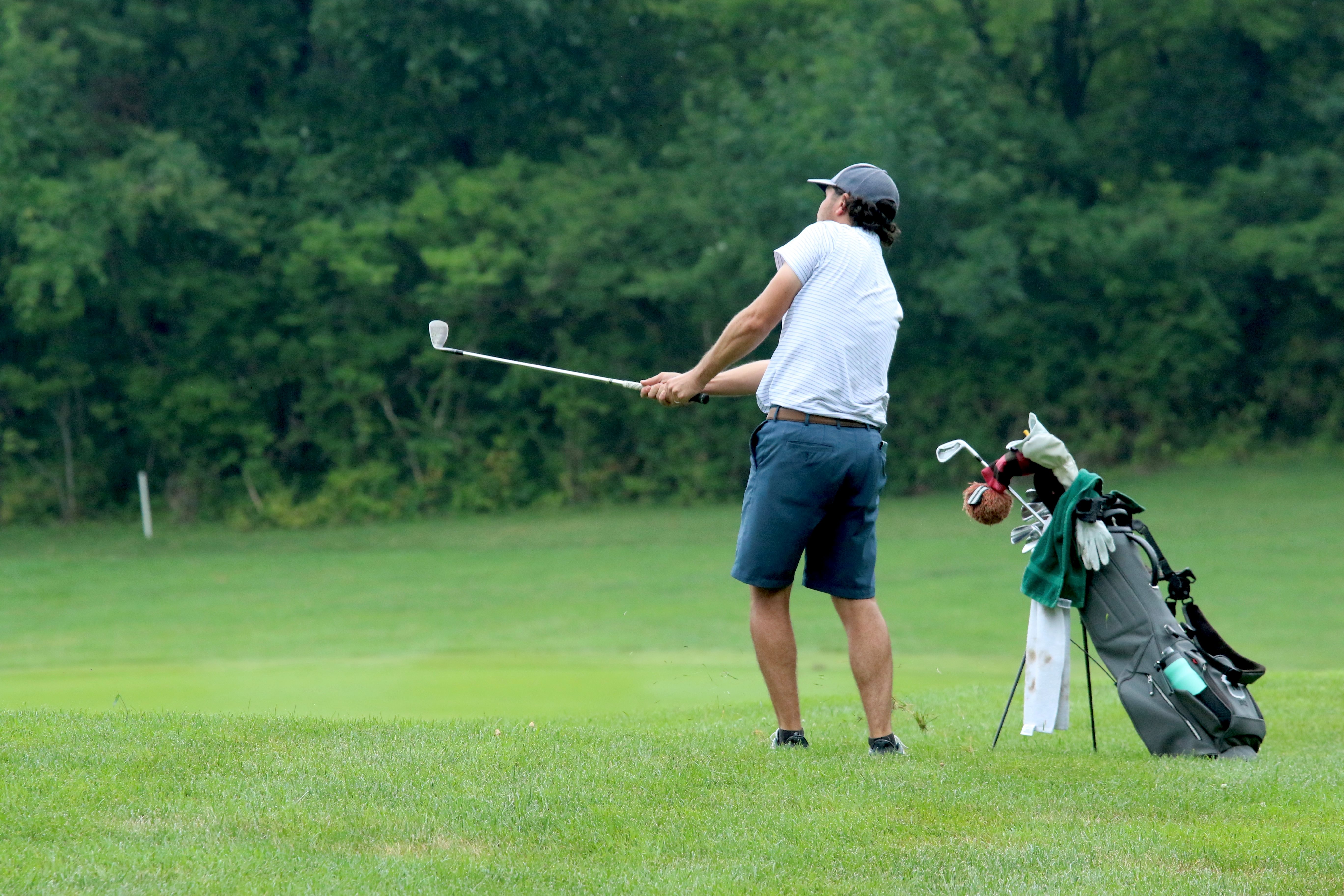 Migdal Leads the 33rd Metropolitan Amateur After Round 1
Weldon Spring, MO - The day began with a bit of a snag when the horn for lightning in the area sounded with only two groups on the front and two groups on the back nine. The delay lasted for an hour and ten minutes, causing all starting times from the morning to be pushed back one hour and three minutes, followed by the afternoon starting times being pushed back one hour and fifteen minutes from their originally scheduled times. The skies remained cloudy throughout the day. A few times, the sun dared to peek through, but to no avail.
In the morning wave, players put together rounds that would force the afternoon players to answer if they want to be in a good position going into Round 2. Sam Migdal of Norwood Hills Country Club found himself at the top of the leaderboard with a score of seven-under (-7) par. Migdal pulled together a bogey-free round, and finished strong with a birdie on Hole 18. Migdal knew he had played well, but what he did not realize was he had just broken the MAGA Amateur Championship record for the lowest Round 1 Score. Until today, the record was held by Jimmy Siegfried and Tyler Linenbroker at six-under par. In his post-round interview, Sam said his goal for the day was to "not make a bogey and hit as many greens as possible."
At the conclusion of the morning wave, Drew Pranger of Glen Echo Country Club and Max Kreikemeier of Forest Hills Country Club were tied for second at three-under (-3) par. Drew Wielgus of the Metropolitan eClub, Jason White of Tapawingo National Golf Club, and Alex Ciaramitaro of the Metropolitan eClub all sat tied for fourth at two-under (-2) par. Eleven players from the morning group finished Round 1 at even par or better.
With low scores from strong players on the leaderboard, the afternoon wave knew they would have their work cut out for them. Many tried to catch Sam Migdal, but it just could not be done. Griffin St. Pierre of Woods Fort Golf Course had quite the round with only one par on the front nine. St. Pierre had just two bogeys join that par on the front nine and then coupled it with six birdies. This helped put him at four-under (-4) par to overtake Pranger and Kreikemeier for second place. Not long after, St. Pierre was joined by Peter Weaver of Bellerive Country Club. Weaver made four birdies on the back nine and three on the front nine. A few bogeys led him to sit tied for second at four-under (-4) par.
Now sitting tied for fourth, Pranger and Kreikemeier were joined in the afternoon by Jimmy Siegfried of the Metropolitan eClub with a score of three-under (-3) par. White, Ciaramitaro, and Wielgus also gained company in the afternoon in their new leaderboard position of tied for seventh. Coming in to join them at two-under (-2) par are Zach Walsh of Forest Hills Country Club and Thomas Wuennenberg of the Metropolitan eClub. Following Round 1, twenty-nine players finished at even par or better.
Everyone will return for Round 2. Starting Times have already been released as the morning and afternoon waves will swap times, as well as all players starting on the opposite side of the course from Round 1.