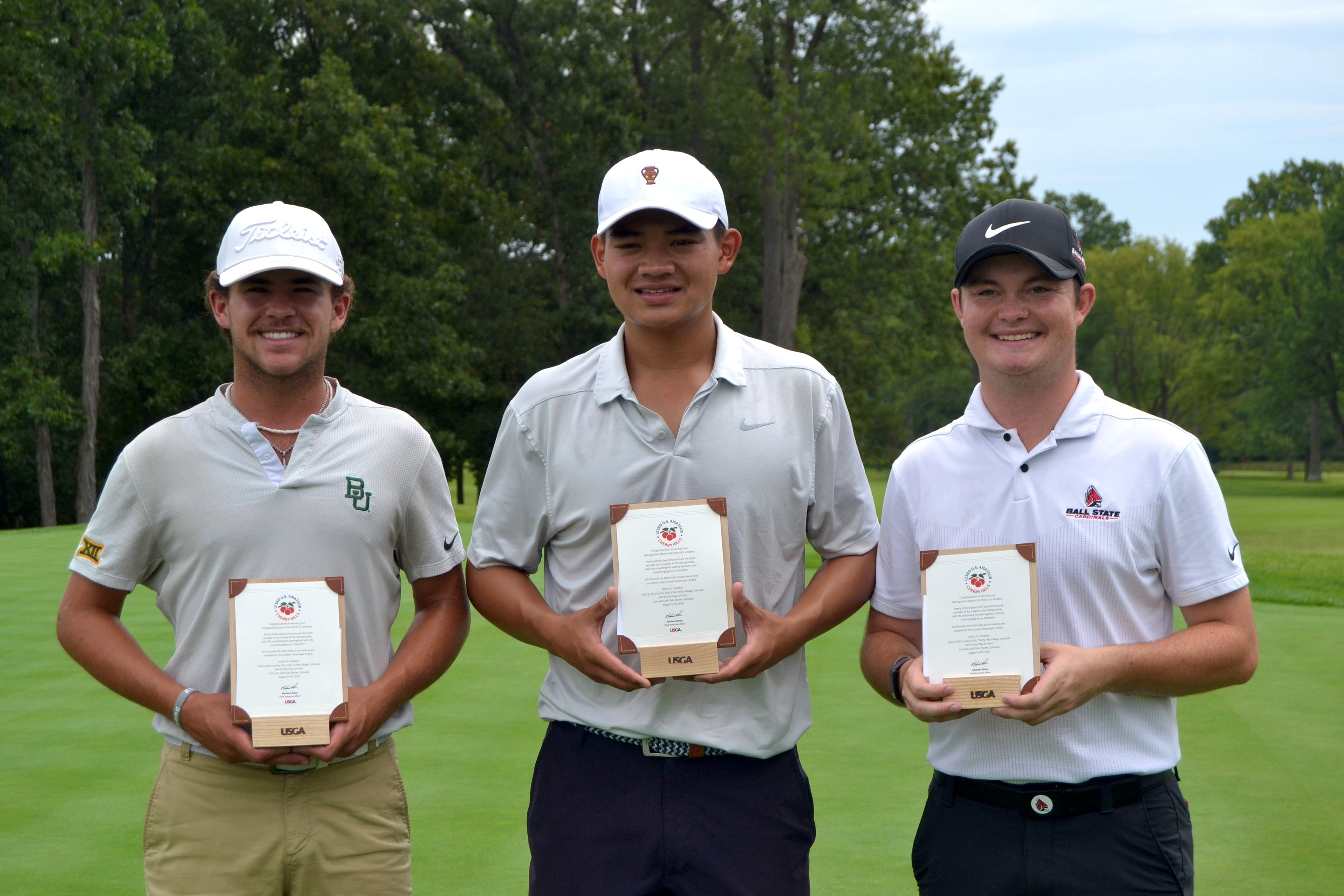 Qualifying for the US Amateur is Just a Bowl of Cherries
Ballwin, MO
- Following Round 1 of the U.S. Amateur Qualifying at Meadowbrook Country Club, the field was cut at three-over (+3) par, leaving 43 players to battle for the three qualifying and two alternate spots. Griffin Hare and Peter Weaver topped the leaderboard at four-under (-4) par, while Alex Mcculla and Patrick West followed closely behind at three-under (-3) par. Storms predicted to arrive on Tuesday afternoon had the committee decide to send players off of Holes 1 and 10 again in an attempt to finish before any inclement weather. Play began at 7:00am with the last tee time at 8:17am. The day began with overcast skies and for a brief moment the sun peeked through before the clouds returned. A few minutes before 11:00 am, a quick sprinkle occurred, but only lasted a few short minutes.
Players were busy putting together some strong rounds out on the course. Cooper Schultz of Wichita, Kansas was the first player to bring in a low round today. Schultz went off in the first group off Hole 10 and fired a round of six-under (-6) par. With seven birdies and one bogey, Schultz placed himself at five-under (-5) total and in position to potentially claim a qualifying spot. Starting his round in the midway mark of tee times off of Hole 1, Luke Morgan of Guthrie, Oklahoma could clearly sense there was a low round out there. Morgan also pulled together seven birdies and one bogey to shoot six-under (-6) par for the day. Finishing strong with a birdie on eighteen and combining this score with his Round 1 score of even (E) par, Morgan found himself being the highest sitting player in the clubhouse. He would still have to wait it out to see how others behind him finished, as there were some low rounds still on the course.
The 8:06am start time off of Hole 1 was fighting to stay up on the leaderboard. Josh Duangmanee of Fairfax, Virginia came into the final round with a score of two-under par before flying up the leaderboard in Round 2. Five birdies on the front and four on the back saw Duangmanee card the lowest round of the qualifier at seven-under (-7) par, and push him above the other competitors. At nine-under (-9) par, Duangmanee earned his ticket to the U.S. Amateur as the medalist from this qualifier. Playing the round with Duangmanee were Alex Mcculla of Quincy, Illinois and John Driscoll III of Lake Mary, Florida. Both Mcculla and Driscoll came into the clubhouse at four-under (-4) par. After a bogey-free first round, Mcculla was looking to shoot low again. He carded six birdies throughout his round, but a few bad holes left him only able to finish at one-under (-1) for the day. Driscoll had two birdies and two bogeys that evened themselves out, but an eagle on Hole 7 put him at two-under (-2) for the day and even with Mcculla in a potential alternate position.
The last group of the day proved crucial to the leaderboard. Round 1 co-leader, Griffin Hare, was determined to stay on top. He started off fairly strong with birdies on Holes 5 and 6 until a rough patch on Hole 9. Hare fought back to finish his round at two-under (-2) par, which placed him tied for second with Luke Morgan at six-under (-6) par. This pushed Cooper Schultz out of a qualifying spot and into an alternate position. With Schultz in the alternate position, Alex Mcculla and John Driscoll III were facing a playoff for the second alternate. Peter Weaver - the Round 1 co-leader - of St. Louis, Missouri came in with Hare. Weaver, coming off of a bogey-free first round, looked on track to do the same after nine holes. A rough stretch on the back nine seemed as though it might take Weaver out of the running, but finishing with a birdie on Hole 18 allowed Weaver to close the round at even (E) par. This placed him in the playoff for the second alternate position with Mcculla and Driscoll.
Driscoll, Mcculla, and Weaver set off down Hole 10 to play off for the final alternate position. Each player made their way down to the green, where Peter Weaver would defeat his competitors and earn the second alternate spot.
After two rounds of golf, Josh Duangmanee was the qualifying Medalist at nine-under (-9) par. Luke Morgan and Griffin Hare will join him at the U.S. Amateur after qualifying with the score of six-under (-6) par. Should someone not be able to compete, Cooper Schultz (-5) will take the place as the first alternate, followed by Peter Weaver (-4) as the second alternate. The qualified players will compete at Cherry Hills Country Club in Cherry Hills Village, Colorado on August 14-20.