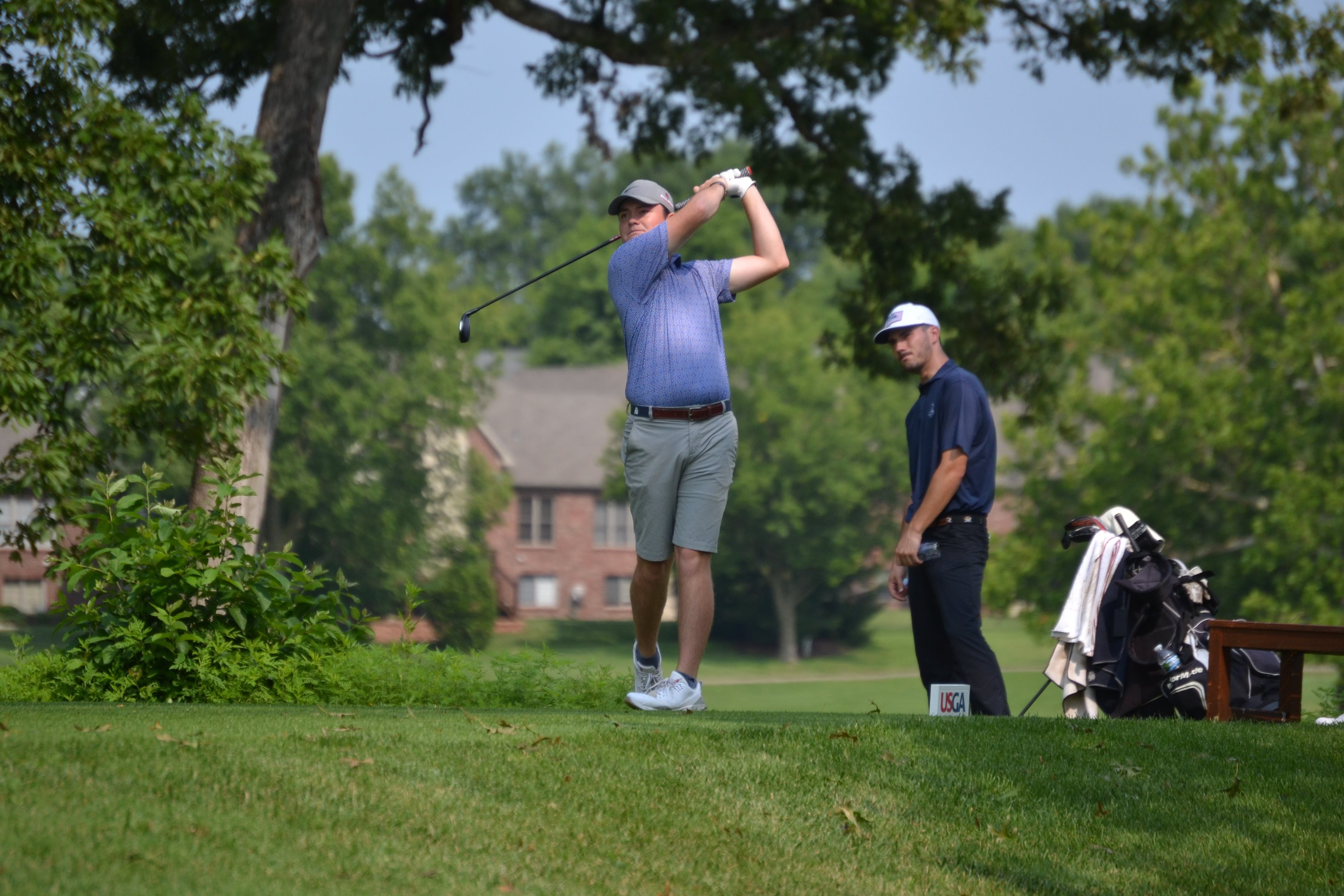 US Amateur Qualifying Sees a Tight Race in Round 1
Ballwin, MO
- Ninety-seven hopeful golfers teed it up at Meadowbrook Country Club for the U.S. Amateur Qualifier. The day started with cloudy skies, before the sun broke through. It turned into a beautiful day for golf. The field went off in two waves off of Holes 1 and 10. Making their way around the course, players aimed to be low enough to survive the cut following Round 1 and place themselves in contention for the three qualifying spots.

The first group of the morning wave started at 7:00am, and the final groups of the morning turned in their scores around 1:00pm. Players moved around the leaderboard during their rounds, but the round of the morning came from Griffin Hare of Tipton, Indiana. Hare carded eight birdies during his round. A small hiccup on Holes 4 and 5 cost him some strokes, but he was still able to rally back to finish with a score of four-under (-4) par. Alex McCulla of Quincy, Illinois put himself in a good position by shooting a bogey-free three-under (-3) par. This placed McCulla in second behind Hare. Three players came in at two-under (-2) par to be tied for third: Ian Lentz of Alachua, Florida, Josh Duangmanee of Fairfax, Virginia, and John Driscoll III of Lake Mary, Florida. William Holan from Canada, Justin Bryant of St. Louis, Missouri, and Nathan Petronzio of Bee Cave, Texas came in from the morning wave at one-under (-1) par, sitting them tied for sixth with the afternoon wave still to play.
The afternoon wave kicked off at 12:00pm, with the final groups finishing up at 6:21pm. Before teeing off, players were able to see how the morning group were performing. With the standard set, competitors took off to try to meet or better the numbers on the course. Peter Weaver of St. Louis, Missouri put together a strong round, and the lowest of the afternoon. Weaver shot a bogey-free, four-under (-4) par to tie the lead. Patrick West of Jenks, Oklahoma just nearly missed a bogey-free round with a bogey on Hole 18. Carding four-birdies, West finds himself tied for third at three-under (-3) par. Despite their efforts, no one from the afternoon group was able to move their way into joining the three morning players at two-under. Three players were able to add their names to the list at one-under (-1) par. Those players were Robert Hogan of St. Louis, Missouri, Davis Irving of Germantown, Tennessee, and Kevin Jeske of St. Louis, Missouri.
Twenty-one players sit at even par or better following Round 1. Griffin Hare and Peter Weaver top the leaderboard at four-under (-4) par. Following closely behind tied for third are Alex Mcculla and Patrick West. Ian Lentz, Josh Duangmanee, and John Driscoll III hold down the fort in a tie for fifth. Six players are tied for eighth, while eight players are tied for fourteenth at even (E) par. The field was cut after Round 1 to the low 42 and ties. The cut was made at three-over (+3) par with 43 players surviving.
Round 2 will begin early with groups going off of Holes 1 and 10 in an attempt to complete the round before any predicted inclement weather rolls in in the afternoon. At the conclusion of Round 2, three golfers will have punched their tickets to Cherry Hills Country Club in Cherry Hills Village, Colorado. With the leaderboard stacked, it will make for a great day of exciting golf on Tuesday.