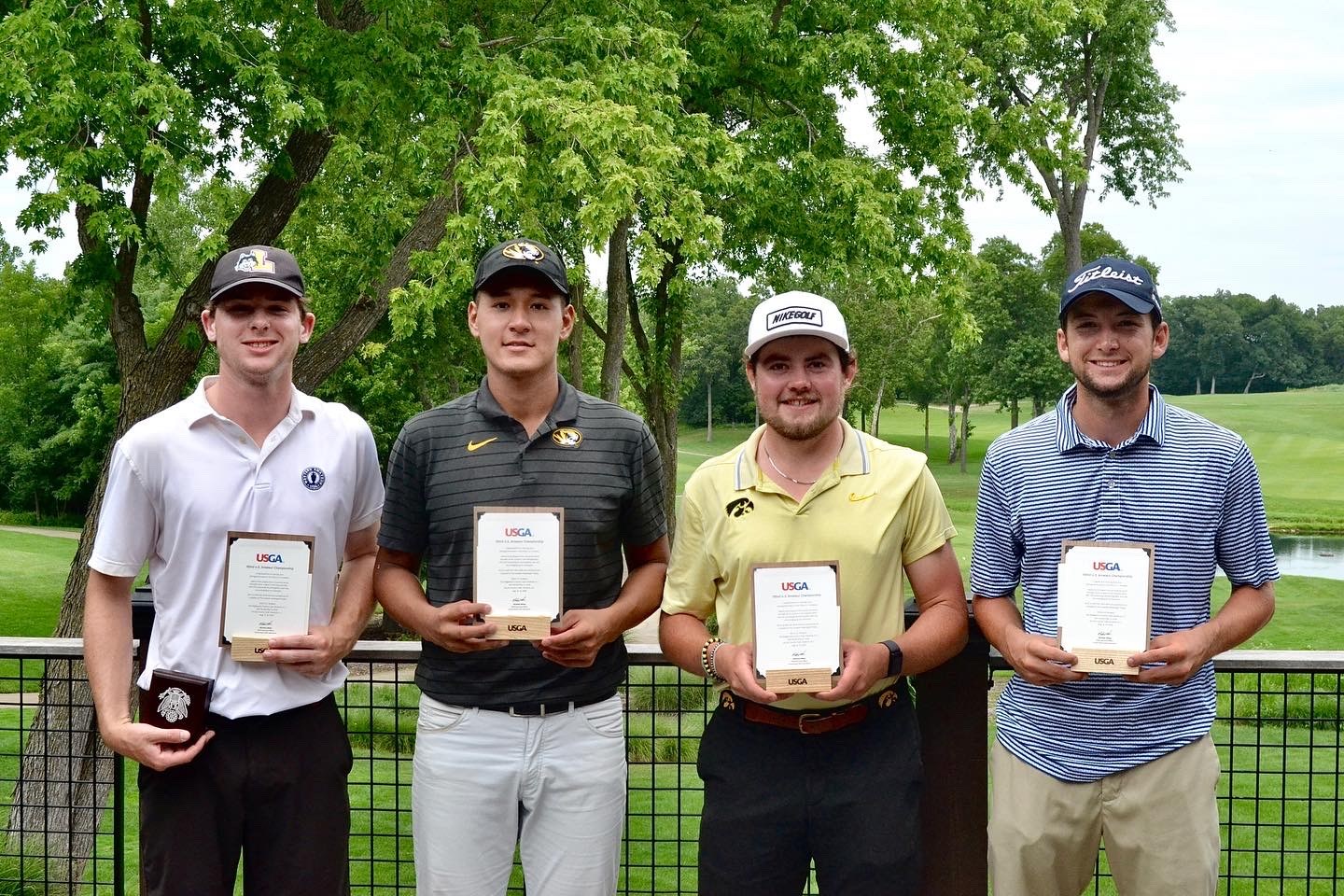 Timmy Crawford Medals at US Amateur Qualifier
Full Qualifier Results
|
Round One Recap
Weldon Spring, MO – Four amateur golfers qualified for the U.S. Amateur Championship Wednesday at Persimmon Woods Golf Club. Timmy Crawford from Arlington Heights, IL, Mac Mcclear from Hinsdale, IL, Yu Ta Tsai from Chinese Taipei and Joey Wiseman from Corydon, IN.
The U.S. Amateur Championship is being played at The Ridgewood Country Clubs in Paramus, NJ from Aug 15th-21st.
Heat was a concern throughout the qualifying rounds as the heat index for both days broke 100 degrees with players on Tuesday facing indexes as high as 110 degrees. MAGA worked hard to make sure everyone stayed hydrated going through 75 cases of water 12 cases of Powerade and 57 bags of ice during play.
Timmy Crawford was medalist with impressive scores of 65 on Tuesday and 69 on Wednesday, good enough for -8 on the tournament. While his score was impressive, it was just enough to edge out runner-up Mac Mcclear who finished at -7. Tsai and Wiseman finished at -5 and -4 respectively.
While Crawford was able to pull out a victory his round did not start smoothly when a poor tee shot forced him to fight out of the rough and finish with a double bogey, which lost him the lead on the second hole. He would not regain the lead until the back nine. Crawford however, remained calm and stayed focused on his game for the rest of the round saying, "I knew I was playing good" and that "I tried to do what I did yesterday; hit a lot of fairways."
Crawford posted two eagles and nine birdies on the tournament including three on the back nine Wednesday to secure the victory as Mcclear kept the pressure on until the end with an eagle and eight birdies of his own with the last one coming in on the 18
th
hole to force Crawford to par for the win.
Although his shots off the tee box put him in trouble early in the round Crawford chalked up his victory to his accuracy from the tees saying that hitting as many fairways as he did "really helped out here with how long the rough was."
There was plenty of drama on the course, especially on Wednesday where only one of the four leaders retained a qualifying spot following the day's action. The drama did not end with regulation play either, as four players tied for fifth at even par which forced a playoff for the two alternate spots available at the tournament.
Reilly Ahearn was able to claim the first alternate spot in a playoff winning the 10
th
hole and Tyler Linenbroker lost out, while the other two battled it out for three more holes until Esteban Vasquez Martin earned the 2nd alternate spot over Christopher Ferris after playing the 18th and then replaying the 10
th
and 18
th
holes again.