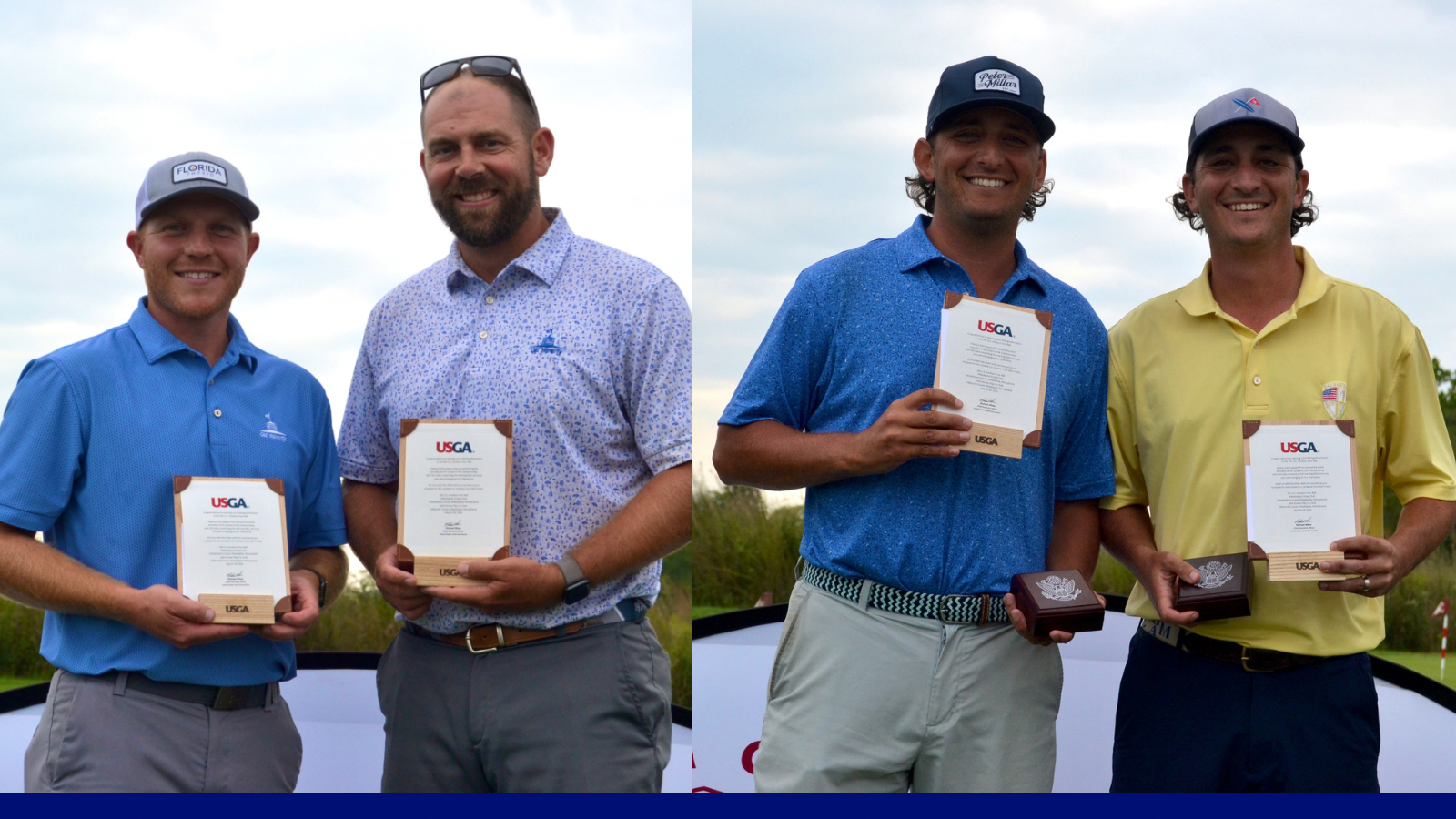 Headed to Philly in 2024 for the U.S. Amateur Four-Ball
Waterloo, IL
- A beautiful, sunny day for the 2024 US Amateur Four-Ball Qualifying was a success at Annbriar Golf Course. 49 teams, equalling 98 players, teed it up in the hopes to qualify for next year's championship. Two qualifying spots and two alternate positions were on the line. Live scores were kept through holes 9 and 18.

Through nine holes, the front running team was the side of Sam and Joe Migdal of St. Louis, Missouri. The Migdal brothers put together a front nine score of eight-under (-8) par featuring an eagle from both Joe - Hole 2 - and Sam - Hole 9. After a running start, the Migdals still needed to hold on to their score to securely place themselves at the top and give the field something to chase. With no bogeys on the card, the pair found two birdies on the back nine to come in at ten-under (-10) par to top the leaderboard early.
Todd Obergoenner of Cape Girardeau, Missouri and Blake Driskell of Jackson, Missouri were not far behind throughout the day. Driskell and Obergoenner made the turn with a score of six-under (-6) par. Driskell really helped put them on the board with two eagles, on Holes 5 and 9. Three birdies on the back nine had the group finish at nine-under (-9) par, just behind Migdal and Migdal.
Tyler Mawhinney of Fleming Island, Florida and Bradford Lacefield of Versailles, Kentucky tried to sneak in on the leaderboard with a score of eight-under (-8) par. Shooting five-under (-5) par on the front nine and three-under (-3) par on the back nine, they would sit just shy of the two qualifying spots. Lacefield and Mawhinney then had to wait it out to see if they would earn an alternate position with their score or have to playoff for one.

In the second to last group, the side of Phillip Riggs of Evansville, Indiana and Zachery Thomas of Newburgh, Indiana came barreling in with a great back nine. Making the turn at just three-under (-3) par, Riggs and Thomas would have to make up quite some ground to catch the leaders. The pair set off to compose a back nine with zero bogeys and five birdies to hit five-under (-5) par for the nine and eight-under (-8) par total. This shot them up the leaderboard in a tie for third, which would force a playoff for the two alternate spots.
Four teams had been waiting to know their fate at seven-under (-7) par. The sides of Joshua Rhodes and G Davis Boland (Paducah and Louisville, KY), Blaine Buente and Austin Buente (Chatham, IL and St. Louis, MO), Derek Meinhart and Kyle Maxwell (Mattoon, IL and The Woodlands, TX), and Connor Mccall and Tug Schwab (Vandalia and Litchfield, IL) spent some time in a tie for fourth, which would have seen the four sides battle for the second alternate position. Once Riggs and Thomas turned in their scorecard, the four sides at seven-under par were pushed out of contention.
Then, it was time for the playoff. Riggs and Thomas were ready to face Mawhinney and Lacefield, but the two were not present for the playoff. With the non-arrival to begin the playoff, Riggs and Thomas earned the first alternate position as they were the side present. Mawhinney and Lacefield would become the second alternates.
Medalists Joe Migdal and Sam Migdal, along with Todd Obergoenner and Blake Driskell will travel to the Philadelphia Cricket Club in Philadelphia, Pennsylvania to compete in the 2024 U.S. Amateur Four-Ball Championship from May 25-29, 2024. Should a team be unable to attend, Phillip Riggs and Zachery Thomas will be the first alternates, while Tyler Mawhinney and Bradford Lacefield will be the second alternates.