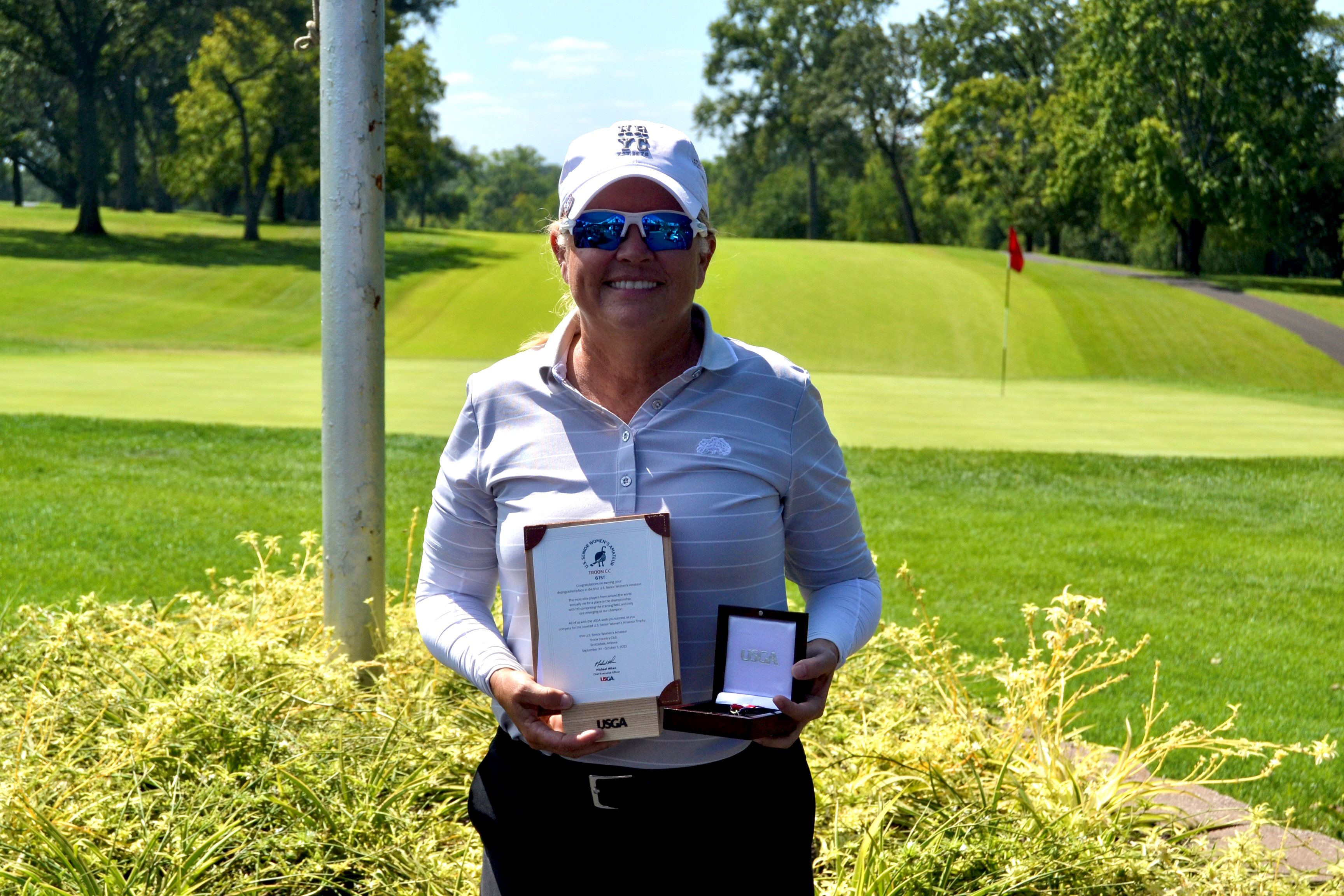 Glennon Goes to the US Senior Women's Amateur
Normandy, MO - It was a beautiful day at Glen Echo Country Club for the US Senior Women's Amateur Qualifying Round. The sun was shining through the cool morning air, making for a pleasant round of golf. Three women tees it up in the hopes to claim the one qualifying spot. Nobody would leave fully empty handed as there are also two alternate positions up for grabs. The group teed off at 7:30am and the last putt dropped at 11:24am. The course played to a par 71.
Through nine holes, Dee Johnson of Perryville, Missouri maintained the lead. After a rough start with a double bogey on the first hole, Johnson was able to rally and finish the first nine at just two-over (+2) par. Kathy Glennon of Naples, Florida was not too far behind after nine holes. Glennon shot four-over (+4) par on the front to stay just two shots back with nine to play. Deirdre Robertson of Iberia, Missouri closed out her first nine hole with a birdie. Robertson sat at the back of the pack at six-over (+6) par.
Things began to heat up on the back nine. A birdie on Hole 10 for Glennon inched her one stroke closer to Johnson. A bogey on Hole 12 dropped Johnson back a shot, leaving her tied with Glennon. Remaining toe to toe, both Johnson and Glennon made bogey on Hole 13 and Hole 15 to get to five-over (+5) par and stay tied with three to play. A tough lie near a tree left Johnson with little choice but to take a shorter swing and chip into the fairway on Hole 16. Narrowly missing a putt for bogey, Johnson finished the hole dropping back two shots. Glennon had an opportunity to move ahead by two, but with a bogey of her own, she pulled ahead by only one stroke at the 16th.
Two holes to play and the players sat as follows: Glennon at six-over (+6) par, Johnson at seven-over (+7) par, and Deirdre Robertson at sixteen-over (+16) par. Glennon put her approach shot on Hole 17 in the left side bunker, and once out, was left with a lengthy putt. Johnson could see there was an opening to get back into a tied position. Johnson narrowly missed her putt to regain a stroke, and they would enter the final hole with Glennon up by one stroke. Three putts on the 18th green for Glennon once again opened a door for Johnson. This time, Johnson did not let it slip away by making par and rejoining Glennon at the top.
A playoff would be necessary to determine who would get the qualifying spot between Glennon and Johnson, who finished their rounds at eight-over (+8) par. The pair returned to Hole 1 to begin the playoff. Both players sent their tee shots down the middle of the fairway and then missed the green to opposite sides. After each finding the hole in 5 strokes, a second playoff hole would be needed, so we turned to Hole 18. Both players made their way down the fairway and approached the green. Glennon's ball found the left side bunker while Johnson's ball had just overflown the green. Johnson left her putt short, which allowed for Glennon to sink her putt to earn the qualifying spot.
Kathy Glennon will go to the US Senior Women's Amateur Championship at Troon Country Club in Scottsdale, Arizona from September 30 to October 5. Should someone be unable to attend Dee Johnson will be the first alternate and Deirdre Robertson will be the second alternate from our qualifying site.