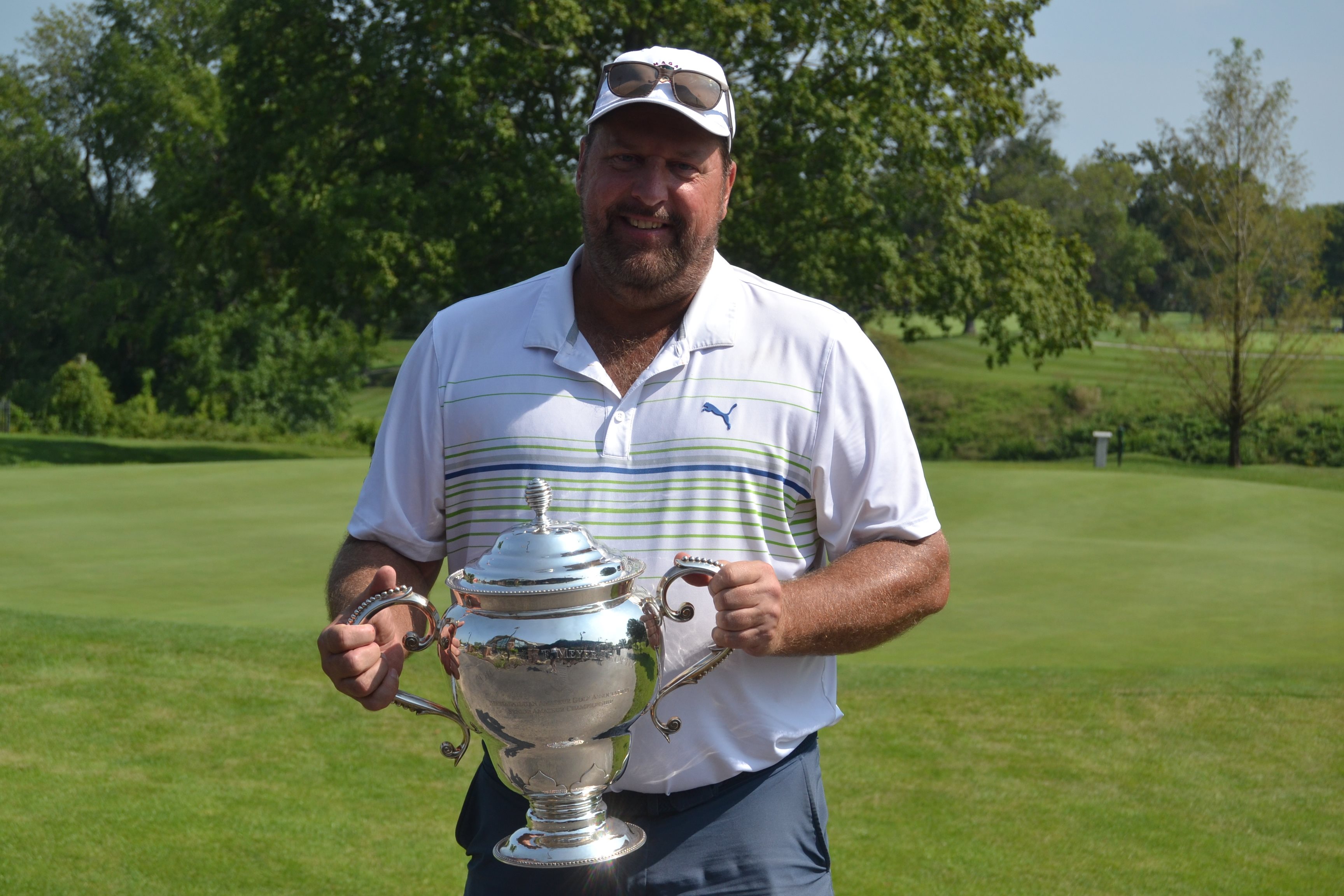 Neeman Champions the 31st Metropolitan Senior Amateur
Belleville, IL
- Another beautiful day in Belleville made for a perfect Final Round of the 31st Metropolitan Senior Amateur Championship. With clear skies and a shining sun, temperatures in the mid-80s paired with a light, cool breeze created an atmosphere for an enjoyable day of golf. 76 players returned for the second and final round. Five past champions were in the field: Brian Lovett, Mike O'Neill, Jack Eisenbeis, Jim Dunn, and Scott Edwards. Eisenbeis and Dunn withdrew from the competition before the final round. Edwards is competing in the 65-69 age division, leaving just Lovett and O'Neill to try to claim the title again. The day began at 8:00am with players going off of Holes 1 and 10. The last group teed off at 10:10am.
The first group to finish their round was the 50-59 age division. Jim Mauze of St. Louis Country Club shot rounds of 79 and 80 to have a combined gross score of fifteen-over (+15) par to win the division. Josh Goldman of the USGA/MetAmateurGA put his handicap to use to bring in a combined net score of fourteen-over (+14) par to win the age 50-59 net division. Coming in just after were the age 60-64 division after starting on Hole 10. Kevin Erxleben of the Metropolitan eClub came out on top of this group with a total gross score of 148, four-over (+4) par. Mark Lamoreaux of Pevely Farms Golf Club and Ken Gillum of Highland Country Club applied handicap strokes to finish with a net score of nine-over (+9) par. In a scorecard playoff, Lamoreaux came out on top of the age 60-64 net division.
As scores were slowly coming in for the Championship Division on Hole 18, the age 65-69 and 70 and up divisions were also coming in on Hole 9 after starting on Hole 10. Patrick Idoux of the Metropolitan eClub was sitting in a strong position after a Round 1 score of even par. Idoux had a tougher second round, but was able to stay on top of the age 65-69 group with a gross score of eight-over (+8) par. For the age 65-69 net division, Kent Plotner of Highland Country Club and Jeff Hebrank of Highland Country Club shot two day totals of ten-over (+10) par. In a scorecard playoff, Plotner would be victorious. R Amos of Old Warson Country Club maintained his position on the leaderboard in the age 70 and up division. Amos shot thirteen-over (+13) par to be the champion. Once handicap strokes were applied, Schooner Fitzgerald of the Metropolitan eClub would be victorious in the age 70 and up net division with a score of six-over (+6) par.
The Championship flight of players began the day with Paul Neeman and David Bremer tied at the top at three-under (-3) par with Brian Hall and Brian Lovett following behind tied for third at even (E) par. As they made their way around the course, things began to heat up. Paul Neeman of Persimmon Woods Golf Club got off to a good start with a birdie on the first hole. Despite having two bogeys on the front nine, a stretch of birdies on Holes 6 through 8 helped push him to the solo lead. Holding on to his game, Neeman finished his round with a score of one-under (-1) par, bringing his total to four-under (-4) par. No other players were able to catch Neeman, making him the Champion. David Bremer of Persimmon Woods Golf Club was unable to produce a second round under par, leaving him finishing the championship at four-over (+4) par and in third place. Brian Lovett, the defending champion, of Bellerive Country Club had a stretch of birdies on Holes 4 through 6, which helped push him into the red. Finishing the day with a score of one-under (-1) par and a total of one-under (-1) par, Lovett slipped into second place to be the runner-up.
Everyone finished their rounds by 2:43pm. Players enjoyed lunch and fellowship following their round at the club. At the end of the day Jim Mauze is the 50-59 Gross Champion, Josh Goldman is the 50-59 Net Champion, Kevin Erxleben is the 60-64 Gross Champion, Mark Lamoreaux is 60-64 Net Champion, Patrick Idoux is the 65-69 Gross Champion, Kent Plotner is the 65-69 Net Champion, R Amos is the 70+ Gross Champion, and Schooner Fitzgerald is the 70+ Net Champion. Paul Neeman reigns victorious as the 31st Metropolitan Senior Amateur Champion.