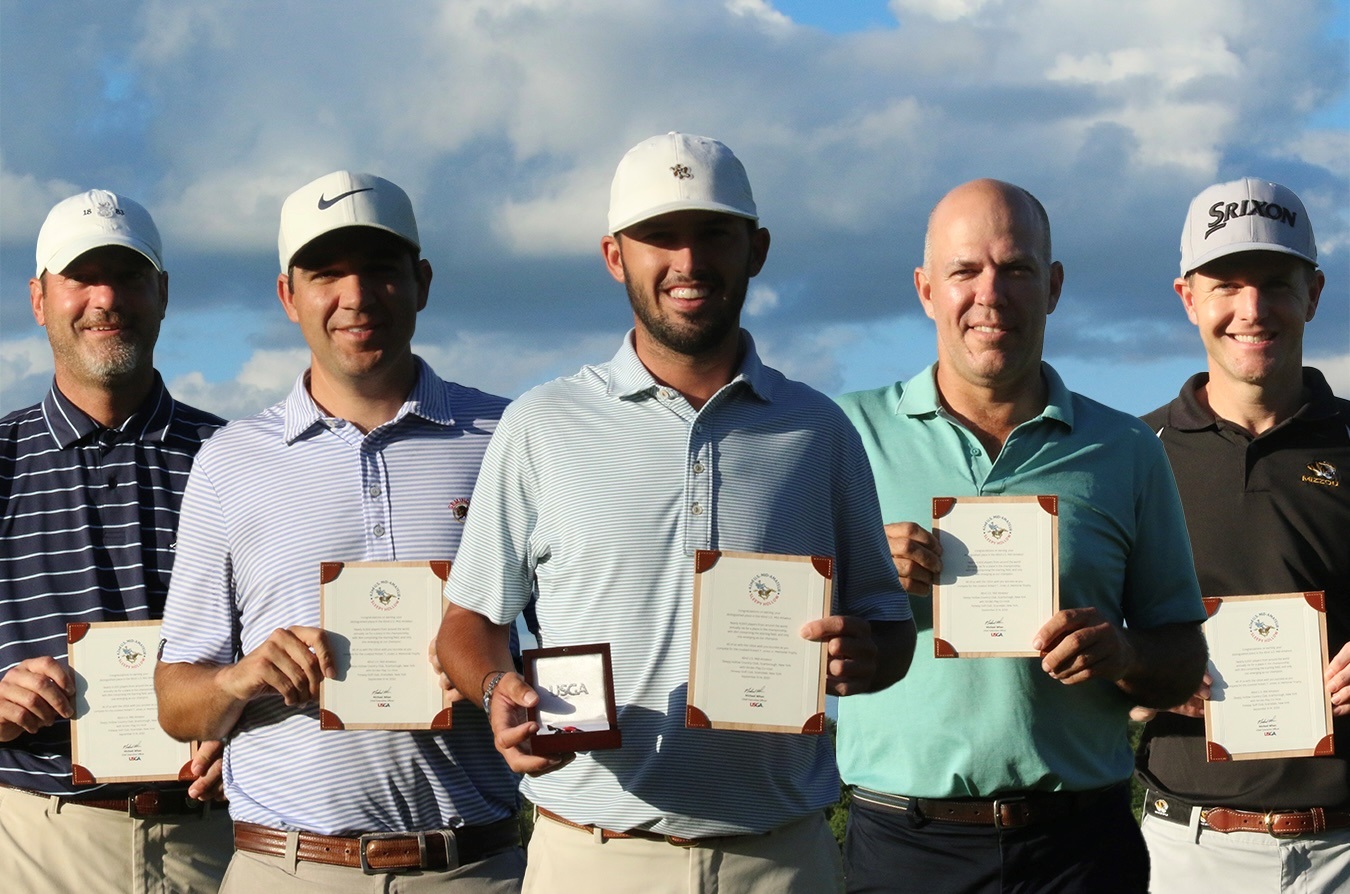 Five Qualify for the U.S. Mid-Amateur
Chesterfield, MO - What started as a rainy day at Forest Hills Country Club for the U.S. Mid-Amateur Qualifier turned into a beautiful day. For much of the morning clouds remained in the sky, producing light rain and mist, but by lunch time it was beginning to break. The afternoon saw sunny skies with a high temperature in the low 80s. One hundred and thirty-two players signed up to throw their hat in the ring for a chance to qualify for the 2023 U.S. Mid-Amateur Championship. Competitors went off in two waves from both Holes 1 and 10. The course played to a par 71, with five qualifying spots and two alternate spots on the line.
The players that began their rounds in the morning were faced with the dreary weather, and trying to keep their clubs dry. This clearly did not rattle the players, as many brought in some low scores. Eleven players in the morning wave brought in scores of even par or better. Coming in around the same time were Chadd Slutzky of Deer Park, IL, Justin Bryant of St. Louis, MO, and Andrew Pranger of St. Louis, MO. Slutzky posted a score of one-under (-1) par, making him one of the first to post under par and placing him in the running. Bryant and Pranger played their round together, and were clearly feeding off of each other's energy, as they both came in with a score of 68, three-under par (-3). This placed the pair at the top of the leaderboard, and set the tone for all players coming in after them. It did not take long for more great scores to come in. Kevin Jeske of St. Louis, MO and John Kelly of Wildwood, MO followed in the group behind Slutzky. Jeske also turned in a score of one-under (-1) par, while Kelly joined the group of Bryant and Pranger at three-under (-3) par. Adam Condello of Brentwood, TN came in with the group after Bryant and Pranger carding the second best score of the day at 69, two-under (-2) par. With less than half of the morning wave in, there were six people in a position to potentially qualify.
As the morning wave continued to bring in their scores, we saw more great scores come in. Joey Maziar of Chicago, IL was the next player to join the list at 70, one-under par (-1). Maziar was followed in by Sam Migdal of St. Louis, MO who also shot one-under (-1) par. That made four players sitting on the cusp of claiming a spot, and looking at a potential playoff. Playing with Migdal was John O'Donnell of Los Angeles, CA. O'Donnell came in with a score of two-under (-2) par, which placed him within the group of five potential qualifiers and pushed the group of players at one-under par out of contention. Though their scores kept them just outside of the running, Richard "Skip" Berkmeyer of Town and Country, MO and Jake Erickson of Chatham, IL posted scores of even par to round out the eleven best scores of the morning wave.
As the afternoon wave of competitors began to arrive and take the course, scores were still pouring in from the morning, but that did not stop them from seeing some of the low scores that were being posted. The morning group had put the pressure on for the afternoon wave. The first group to go off of Hole 10 in the afternoon came in with one score of even par and one score under par. Brad Carpenter of Washington, MO shot even par, which kept him outside the bubble, while his playing partner Chad Niezing shot one-under (-1) par to join the group waiting to see if a playoff for the alternate positions would include them. David Kirkman of St. Louis, MO also came in just shy a few groups later at even par. Coming in at the halfway mark of afternoon starting times, Tucker Jenkins of Nashville, TN put together an incredible round. Jenkins shot a bogey-free round of 63, eight-under (-8) par, to become the new leader in the clubhouse. This placed the players at two-under par right on the cut line and eyeing a playoff for a spot.
With the remaining afternoon times still to come in, players still had to wait to see how the leaderboard would finish shaping up. Ryan Eckelkamp of Washington, MO and Brad Nurski of St. Joseph, MO were in the same grouping. Eckelkamp was able to throw together a round of 69, two-under (-2) par, which would add him to the group of players looking at a playoff. Nurski did one better than his playing partner, returning a score of 69, three-under (-3) par. This score put him tied for second with the other three players already in the clubhouse. With Nurski's score, the five qualifying spots looked to be taken, and pushed all players at two-under par to battle for the alternate positions, while the players at one-under were left empty handed. The final player to bring in a competitive score was Matt Mitchell of Burns, TN. Mitchell carded a round of two-under (-2) to get included in the playoff for the alternate positions.
Once all cards were turned in, Jenkins stood at the top with four players behind him. Condello, O'Donnell, Eckelkamp, and Mitchell all faced a playoff for the first and second alternate spots. The playoff took place on Hole 1 followed by Hole 9 and then repeated if needed. All players tied the first hole, forcing a second hole. O'Donnell was unable to convert on the second playoff hole, leaving three players to continue on. The second time going down Hole 1, Condello was able to beat his competitors on the third playoff hole to secure the first alternate position. Eckelkamp and Mitchell faced a fourth playoff hole, where Mitchell ultimately claimed the second alternate position.
With the day complete, Tucker Jenkins went home as the qualifying Medalist. Joining Jenkins for the U.S. Mid-Amateur are Justin Bryant, Drew Pranger, John Kelly, and Brad Nurski. Should someone be unable to attend and get the call from the USGA, Adam Condello followed by Matt MItchell are the alternates. The U.S. Mid-Amateur will see its competitors on September 9-14 at Sleepy Hollow Country Club in Scarborough, NY.