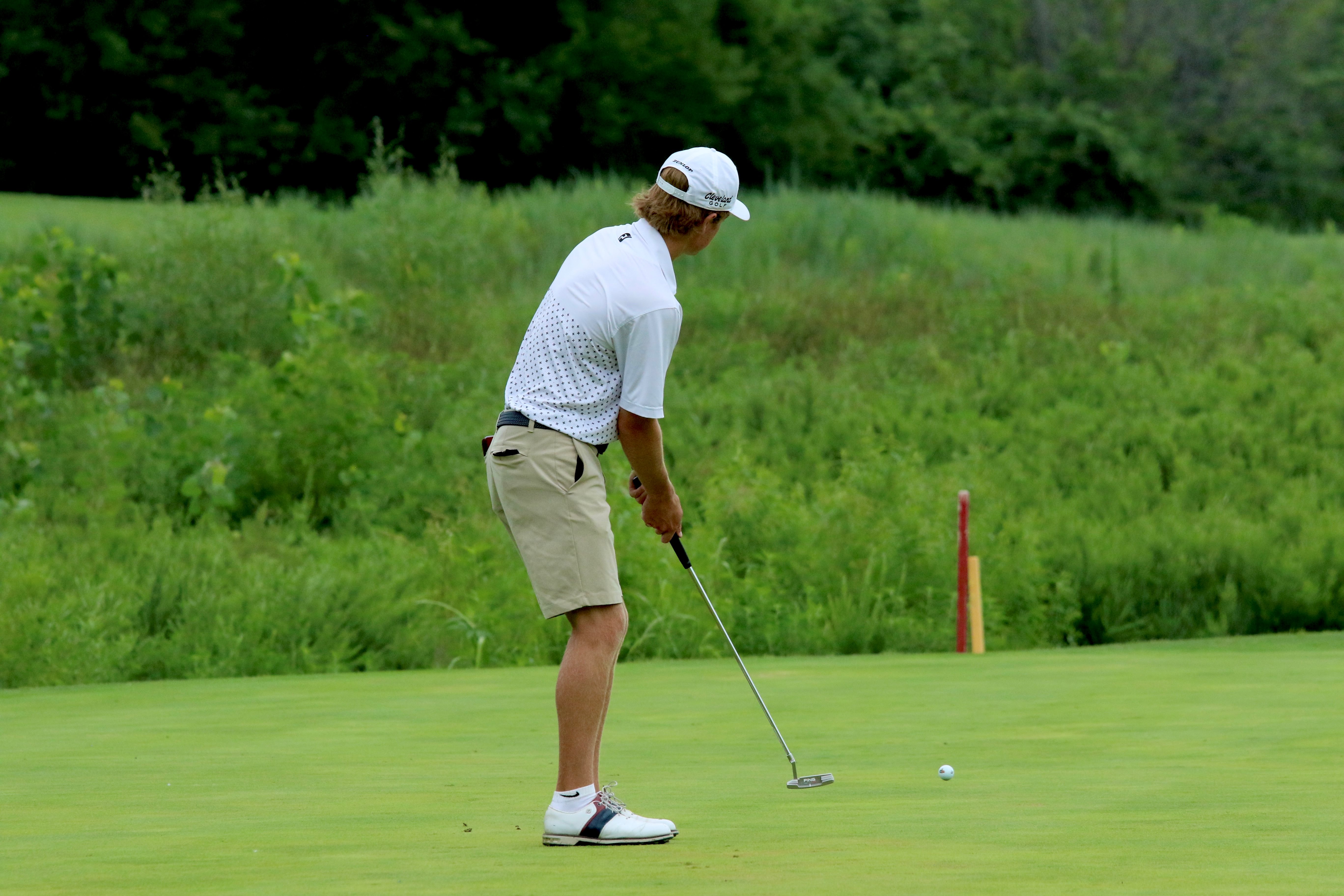 Walsh Breaks Records to Lead After the Morning of Round 2
Weldon Spring, MO - The morning wave for Round 2 of the Metropolitan Amateur Championship at Persimmon Woods Golf Club has come and gone. Players are battling to make the cut that will happen following today's round. Coming into the morning, Sam Migdal led the pack at seven-under (-7) par with Griffin St. Pierre and Peter Weaver tied for second at four-under (-4) par. With twenty-nine competitors at even par or better, there is opportunity over Round 2 and Round 3 for anyone to string together low rounds to win the championship. When arriving at the course early this morning there were some looming dark clouds off in the distance, but they stayed at a distance. Cloudy skies were present throughout the morning.
Hoping to catch up to Sam Migdal, players set out to bring in low scores. Zach Walsh of Forest Hills Country Club was prepared to do just that, bringing in a score of six-under (-6) par for Round 2. Starting on Hole 10, Walsh began his round with a birdie and eagle. Things slowed down a bit for him on the back nine after that, but he found another eagle on Hole 4 and two more birdies on the front nine. This score beats the lowest second round score in Metropolitan Amateur Championship history by one-stroke, as well as, breaks the record for lowest first 36 holes score. The lowest second round score was held by Mike Sabo, Brad Carpenter, Joe Migdal, Nick Westrich, and Cy Moritz until today. The lowest first 36 holes score record was formerly held by Brad Carpenter and Chris Kovach at 136. Combining Walsh's first and second round scores brings him to eight-under (-8) par, 134, and pushes him ahead of Migdal to the top of the leaderboard.
Justin Bryant of St. Louis Country Club came in with the second best round of the morning wave at four-under (-4) par. Bryant had a bogey-free back nine to start his day with three birdies and place him in a good position heading into the front nine, after starting on Hole 10. Combining his first and second round scores brings Bryant to a total of five-under (-5) par and sitting in solo third place with the afternoon wave still to play. Also firing a four-under (-4) par second round was Brian Hall. Hall started his day strong with a bogey free front nine and was able to bring his total score three-under (-3) par. Peter Weaver of Bellerive Country Club came into Round 2 at four-under (-4) par, and managed to card another round under par. With an eagle on Hole 18, Weaver shot one-under (-1) par today, totalling five-under (-5) par and placing him in the top five after the morning wave. Thomas Wuennenberg of the Metropolitan eClub closed out his first two rounds with back-to-back scores of two-under (-2) par, 69. With two eagles on the card for Round 2, Wuennenberg also placed himself in the top five with the afternoon wave still to play at four-under (-4) par. Kevin Jeske of Aberdeen Golf Club and Ryan Eckelkamp of Franklin County Country Club both sit just outside the top five with Brian Hall at three-under (-3) par.
Eleven players in the morning wave brought in Round 2 scores at even par or better. Eight of those players also sit with a total score of even par or better. With some low scores coming in from the morning group, the afternoon wave knows they have some work to do if they want to make the cut. At the conclusion of the morning wave, the projected cut is around five-over par. As the afternoon group makes its way around the course, the cut line can change. The field will be cut after Round 2 to the low forty and ties.

Live Results for Round 2