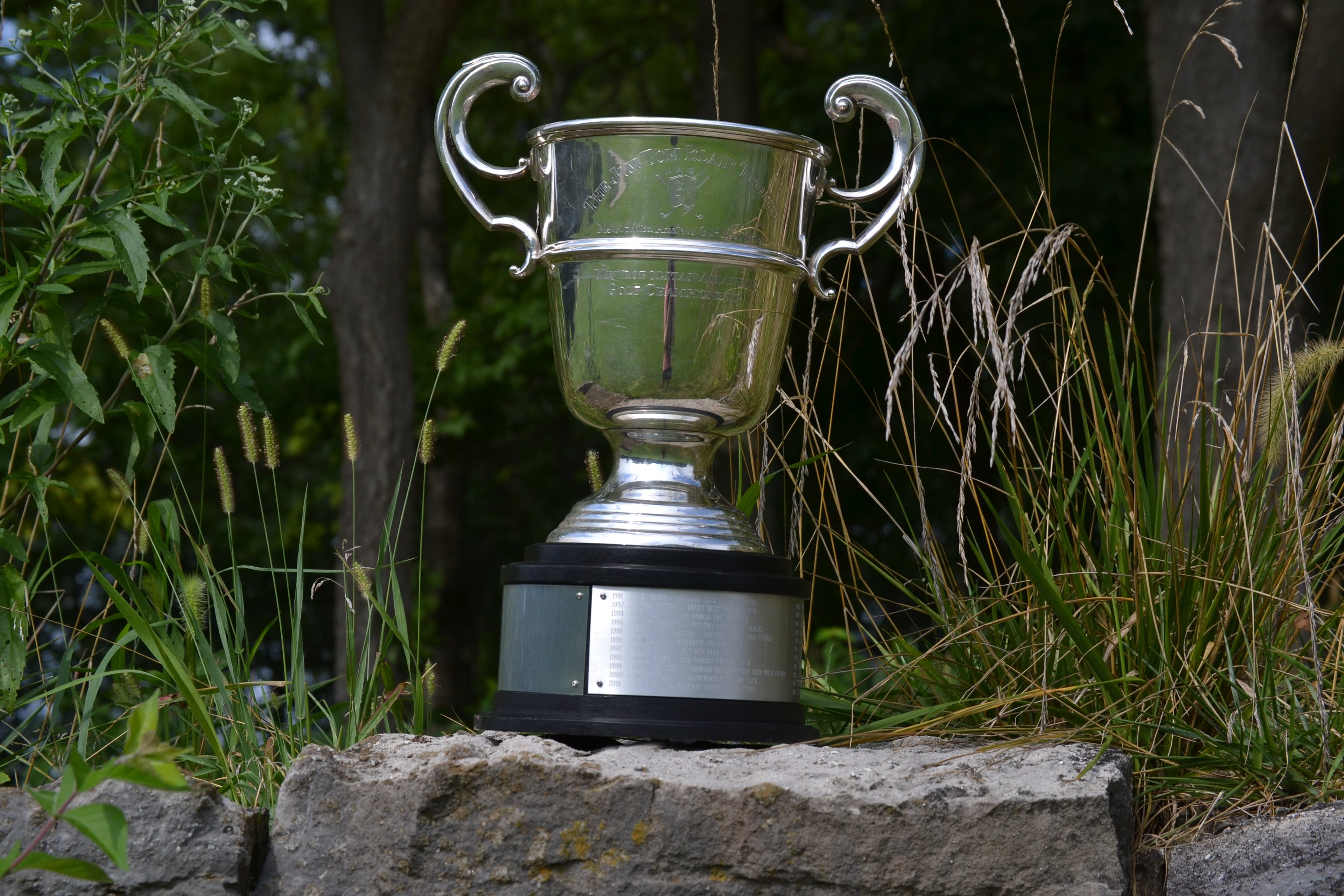 33rd Metropolitan Amateur Championship Preview
As the 33rd Metropolitan Amateur draws near, the field is set and the course is ready for the show. Persimmon Woods Golf Club, located in Weldon Spring, MO, was established in 1998, and will host this year's championship. Though not as old as many clubs within the area, Persimmon Woods has forged a name for itself within the greater Metropolitan golf community. The course was designed by course architect Keith Foster and is now overseen by Superintendent Nick Scheible. Featuring native grasses, wildflowers, mature trees, ponds, and creeks, the course is sure to test the golfers, while also allowing them to showcase their incredible talent.
Persimmon Woods Golf Club has hosted numerous championships and qualifiers since its inception. Over the years, the club has been gracious enough to lend its fairways to seven USGA Championship Qualifiers, four Missouri Golf Association Championships, the NCAA Division III Men's National Championship, multiple St. Louis District Golf Association events, and six PGA Professional National Championship Qualifiers. This year marks the third Metropolitan Amateur Championship to be held at Persimmon Woods Golf Club, having hosted in 2003 and 2013. The course will play between 6840 and 6890 yards with a par of 71 for this year's championship.
The field for the 33rd playing of the Metropolitan Amateur comes with an impressive caliber of competitors that are sure to keep things interesting. Out of a total field of 156 players, approximately 51 are current or former collegiate golfers. Pulling together an average field age of 30 years old, the oldest and youngest golfers face an age gap of 54 years. The oldest competitor is Anthony Brown coming in at 69 years old, while the youngest is Eric Ewing at just 15 years old. Across the field, 47 different Metropolitan Amateur Golf Association member clubs are represented. There are seven former Metropolitan Amateur Champions in the field again this year, including the defending Champion, Drew Pranger. Competing alongside them are four previous runner-ups and numerous other rising stars to keep an eye on.
Skip Berkmeyer (2009), Brad Carpenter (2019), Shawn Jasper (2017), John Kelly (2004), Drew Pranger (2016, 2018, 2022), Jimmy Seigfried (2015), and Kyle Weldon (2012, 2013) have all hoisted the Jim Tom Blair trophy before. The sweet taste of victory is a feeling they all know well and are wanting to experience again. Drew Pranger became the first player to win the Metropolitan Amateur three times with his win last year. Proud of his accomplishment, Pranger is looking to make it four in this year's championship. Kyle Weldon has a chance to equal Pranger's record, with two wins under his belt. As the 2012 and 2013 champion, Weldon became only the second player to hoist the trophy in back-to-back years. Eyes will be on all of the past champions, especially Berkmeyer, Carpenter, Jasper, and Pranger who all put together performances last year that earned them invitations to the Old Warson and Shogren Cups. Jasper, Carpenter, and Pranger all participated in the Old Warson Cup at the beginning of the season, followed about a week later by Berkmeyer, Carpenter, and Pranger joining together on the MAGA Shogren Cup team.
When looking at the field, you cannot discount the former runner-ups. Of course there is Skip Berkmeyer and Shawn Jasper who have found themselves in both the runner-up and champion positions, but the four competitors who have yet to lift the trophy are sure to put up a fight. Last year's runner-up, Ryan Sullivan is ready to come back to win it all after his final two rounds of back-to-back 68's pushed him up the leaderboard into second in 2022. Sullivan followed up this performance last year by qualifying and participating in the U.S. Mid-Amateur Championship. Joining Sullivan in the line up are Chris Kovach, Tony Gumper, and Ryan Eckelkamp. All four of these former runner-ups were also participants in this year's Old Warson and Shogren Cups. The 2020 runner-up, Chris Kovach, is once again ready to compete after a top ten finish last year. Other competitors will need to keep an eye out for Tony Gumper and Ryan Eckelkamp as they have been showcasing their talent over the past year, qualifying and then competing in the U.S. Amateur Four-Ball as a team. Together, they won a five hole play-off to make it to the match play portion of the championship. Eckelkamp kicked off the year by defeating his lower ranked competitor in the Old Warson Cup 6 & 4 to make it to the Round of 8. He is hoping he can bring that competitive winning mentality into this stroke play championship. Gumper will be a strong force, after finishing second in the player of the year race last year and having a strong start to this season. He has already found himself in the winners circle this year, winning the first non-invitational event of the season at the East Side Amateur.
Now the runner-ups and former champions may be strong, but the field is rounded out by some powerful competitors. In total, the field handicap averages +0.8. With a field like this, it could be anyone's game. A player that showed he can compete with the best last year was Michael Becker. Becker finished the Metropolitan Amateur tied for 11th, and then went on to qualify and compete in the U.S. Mid-Amateur Championship. Also in the field is the 2022 Metropolitan Junior Amateur Champion, Ryan Hopwood. He finished in the top ten of this year's Junior Championship, and will now compete in the Amateur for a third time. Joining him in the field is his twin brother Connor Hopwood. Bringing that brotherly competition as well are the Migdal brothers, Sam and Joe. Both have played in numerous MAGA events over the years and shown what they are capable of. Sam Migdal is a former three-time Old Warson Cup Champion and Metropolitan Open Low Amateur. Brian Lovett will be out on the course again this year. Lovett is the 2022 Senior Player of the Year, as well as, the reigning Senior Amateur Champion and Old Warson Cup Senior Champion. For Lovett and others in the field, age is but a number when it comes to playing golf, and their skill proves it.
A breakthrough star of last year's championship, Tyler Linenbroker, is back again. After putting together a record equaling first round of six-under par, Linenbroker continued to put himself in the mix until ultimately finishing tied for third last year. Linenbroker reminded everyone what he can do with a runner-up finish in the St. Louis District Golf Association's Griesedieck Men's Championship this past month. He is ready to charge for the Amateur trophy again. Chad Niezing is a name known throughout the state for his ability to golf. Niezing is a multi-year participant of the Old Warson and Shogren Cups, and is the 2022 Missouri State Amateur Champion. He is still looking to put his name on the Metropolitan Amatuer trophy and is hopeful this could be the year. Justin Bryant is a player to watch for this year. Bryant is a two-time Old Warson Cup Champion, and started this year off by earning a runner-up finish in the Old Warson Cup. He followed that up by earning Medalist honors and qualifying for the next stage of U.S. Open Qualification at our Local Qualifier in May. Bryant will have to face many familiar faces in this championship, including Max Kreikemeier. Kreikemeier began the season by defeating Bryant in the final match to become the reigning Old Warson Cup Champion. Using his skill, Kreikemeier is looking to join the small group that has hoisted the Old Warson Cup and the Jim Tom Blair Trophy in the same year. Another player looking to make history to round out his successful summer is Peter Weaver. Weaver has been hot this summer, where he began playing on the winning MAGA Shogren Cup Team in May, before moving on to become the 2023 Missouri Amateur Champion in June. He was not done yet because he continued forward to win the St. Louis District Golf Association's Griesedieck Men's Championship. As a small addition to his '23 golf resume, Weaver also won a playoff hole to secure a 2nd alternate position for the U.S. Amateur. He is hoping to keep this streak alive and become the first player to win the Missouri Amateur, STL District Championship, and the Metropolitan Amateur all in the same year.
There are numerous players in the field that continue to make their presence known in championships. Some have even lifted other Metropolitan Championship trophies, like Zach Walsh who is a former Metropolitan Junior Amateur Champion. Eighteen competitors are members of Persimmon Woods Golf Club and hope that their familiarity with the course leads them to victory. From champions to newcomers and everyone in between, players are gearing up and ready to take on a new challenge in 2023. The depth of the field is sure to make this a great Metropolitan Amateur Championship.
Starting Times for Rounds 1 and 2 are set and available in the championship portal. To view click here.

For Full Metropolitan Amateur Championship Records, click here.