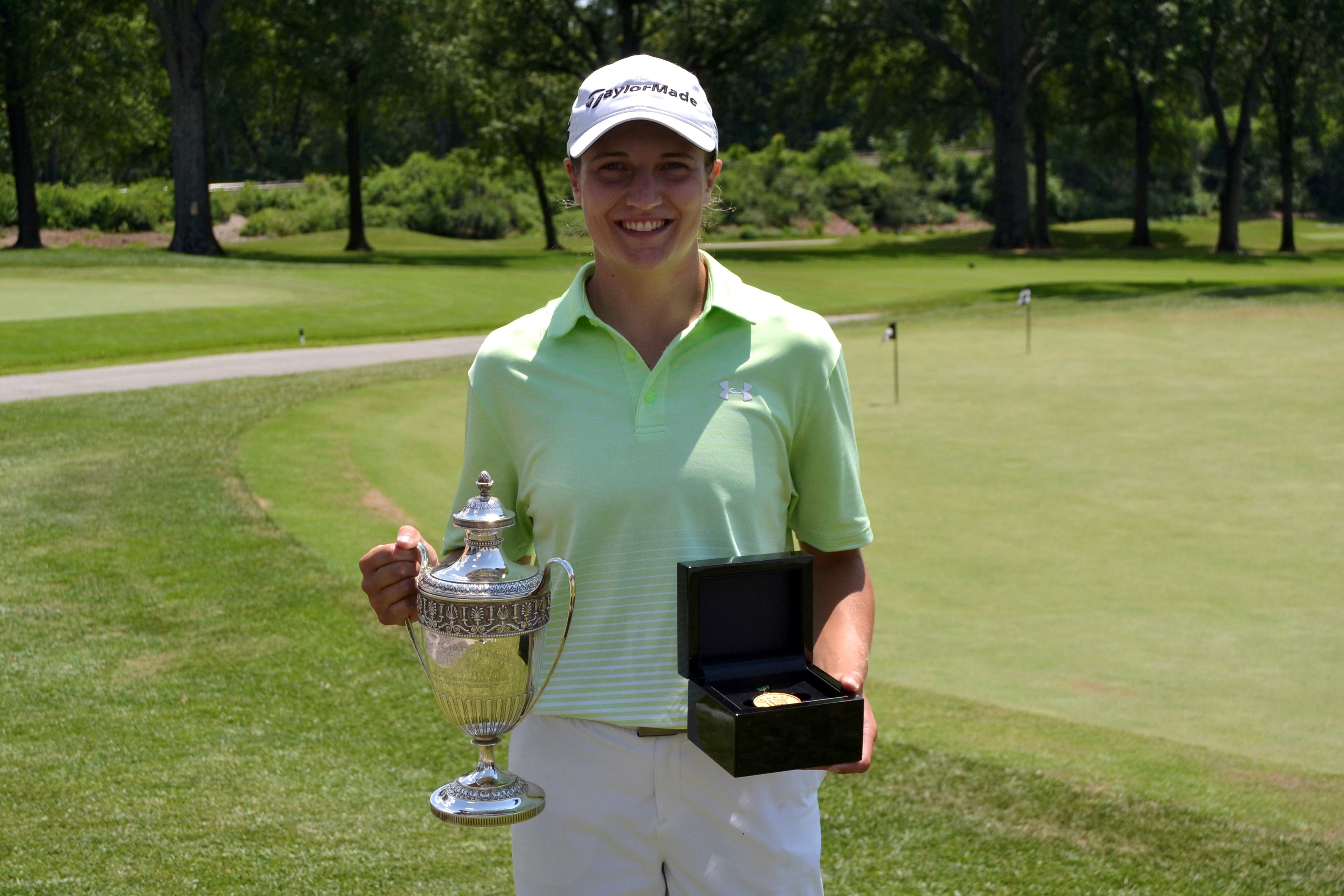 Once, Twice, Three Times a Metropolitan Women's Amateur Champion
St. Louis, MO
- Another beautiful day of golf was had at Westborough Country Club for the Final Round of the 31st Metropolitan Women's Amateur. Following a fun and successful first round, players returned in the hopes to put their name at the top of the leaderboard. After round one, McKenna Montgomery sat at the top of the leaderboard, while Margaret Farrell led Flight A, Anne Moreland led Flight B, and Debra McGinnis led Flight C. With a high in the low 90's, it was warm outside for Round 2, but a nice breeze helped keep the day pleasant. The course was in excellent condition and played to a par 71 for all ladies in the championship. The Championship Flight played using gross scores to win the Jayne M. Watson Trophy, while all scores for Flights A through C are net scores.

McKenna Montgomery of Persimmon Woods Golf Club went into Round 2 at the top of the leaderboard and a three-stroke lead. Montgomery is no stranger to the winners circle, and knows what it takes to finish out a championship. Her round did not have any particular trends of up or down, other than a stretch of pars between holes 8 and 14, but it was enough to hold on at the top. Montgomery did finish her round strong with a birdie on Hole 16, as well as Hole 18, to finish with a Round 2 score of 71, even (E) par, and a total of 141, one-under (-1) par. Gracie Piar of Spencer T. Olin Golf Course began her day tied for second place at two-over par. Piar, the defending champion, was looking to improve upon her game to climb up the leaderboard and maintain the trophy for a second year. As the day went on, her game seemed to improve, having made two bogeys on the third and fourth holes and finishing strong with three birdies in the last five holes. Piar definitely put the heat on Montgomery by posting a Final Round score of 69, two-under (-2) par. This brought her total to 142, even (E) par, one shot back, and in the Runner-Up position. With Piar unable to overtake Montgomery, Montgomery claimed the title of the 31st Metropolitan Women's Amateur. Kathy Glennon of the Country Club of St. Albans also started the day tied for second place. Through nine holes, she still held on to that T-2 position, but fell just short on the back. A Final Round score of one-over (+1), 72, left her three strokes back in solo third place with a total of 145.
In Flight A, Margaret Farrell's strong Round 1 score of 69 put her above the competition. Farrell, playing her home course, continued to try to use her familiarity of the course to her advantage. Though she was unable to duplicate her score from the first day, Farrell put together a round of net three-over (+3) par, which brought her total to 143, or one-over (+1) par. Jeanne Place, also of Westborough Country Club, began the day in third place, but used her knowledge of the course to move up the leaderboard. After a Round 1 score of four-over (+4) par, Place improved her score and started chasing down Farrell by bringing in a Final Round score of one-under (-1) par, 70. Farrell's score still held strong to stay on top and be declared the winner, while Place took home the runner-up award.
Flight B saw a change up this morning, after the Round 1 leader, Anne Moreland, had to withdraw from the competition. This left the door open for others to move into that spot. With the removal of Moreland, Cynthia Rank of Old Warson Country Club became the new leader at three-over (+3) par. Rank doubled down and improved her score by one-stroke to post a Round 2 score of two-Over (+2) par, 73, and take claim on the top spot. Mary Terwelp of Spring Lake Country Club was four-strokes behind Rank before the day started, but was unable to catch her. Putting together a Final Round score of 79, eight-over (+8) par, Terwelp finished as runner-up with a score of 157, while Rank would be flight winner.
In Flight C, Debra McGinnis of Florissant Golf Club held a three-stroke lead over her competitors after Round 1. McGinnis knew she would have to play well again to take home the hardware, and she delivered. Pulling out a score of 67, four-under (-4) par, in Round 2, McGinnis brought her championship total to a whopping 136, or six-under (-6) par. Carol Stampley of Whitmoor Country Club sat in second place following the first round and decided to duplicate her performance. Stampley went back-to-back 72, finishing at two-over (+2) par for the championship. Unfortunately for Stampley, this was not enough to hold off Nancy Struckhoff of Ballwin Golf Club. Struckhoff woke up on the right side of the bed and came ready to put up a fight. She made her way around the course tallying up a score of four-under (-4) par for the day. This pushed Struckhoff ahead to stake claim on the runner-up position with a score of 142, even (E) par, just behind the Flight C winner McGinnis.
After two incredible days of golf, McKenna Montgomery finds herself hoisting the Jayne M. Watson Trophy for a third time. This makes Montgomery only the second player to have won the championship three times. It also makes her the second most winning champion of the Metropolitan Women's Amateur behind Ellen Port, who has won a remarkable sixteen times. Margaret Farrell, Cynthia Rank, and Debra McGinnis all find themselves going home after these two days of golf with new hardware for their shelves from their respective divisions.