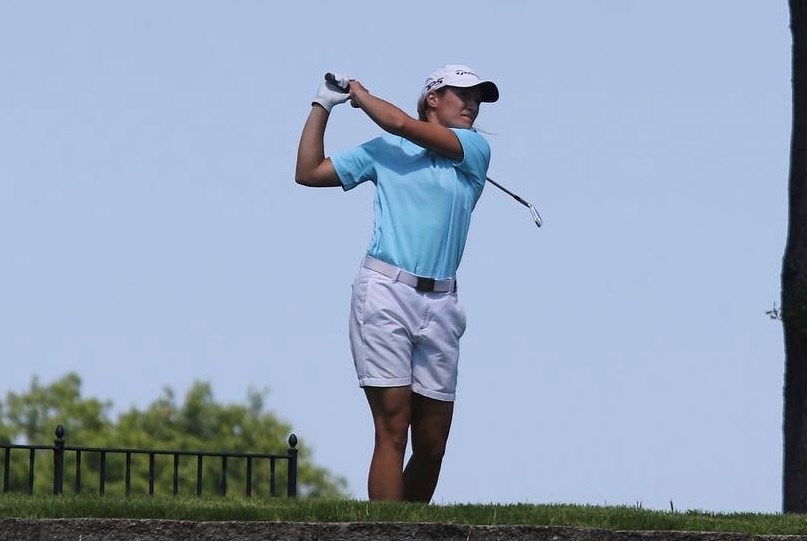 Montgomery Leads the 31st Metropolitan Women's Amateur
St. Louis, MO
- After a sunny day of golf at Westborough Country Club for the 31st Metropolitan Women's Amateur, four players have the solo lead in their respective divisions. Thirty-three women came together to participate in this year's championship. The first group started the day at 8:00am, and the final group finished their round before 3:00pm. Westborough Country Club provided a tight track that challenged the ladies throughout the day. The Championship Flight plays using gross scores, while Flights A through C use net scores.
In the Championship Flight, McKenna Montgomery of Persimmon Woods Golf Club fired a one-under (-1) par to sit in the solo lead after Round 1. The round started off rough for Montgomery, a former Lindenwood University golfer, with two bogies in the first three holes, but she fought back to earn five birdies throughout her round. Behind Montgomery at two-over (+2) par are Kathy Glennon of the Country Club of St. Albans and defending champion Gracie Piar of Spencer T. Olin Golf Course tied for second. Glennon also had a rough start to her round with a bogey on Hole 1, but pushing through an up-and-down round with three birdies, she finds herself within range. Piar, a California State University-Northridge golfer, also had an up-and-down round starting with a bogey, but fighting back after each fall, she finished the day with a birdie and just three back of the lead. Sitting tied for fourth are Peyton Cusick of the Metropolitan eClub and Tina Jones of the Country Club of St. Albans at four-over (+4) par.
Margaret Farrell of Westborough Country Club let her familiarity of the course guide her through the first round. Farrell sits at the top of Flight A with a net score of two-under (-2) par. Behind her, is Trish Friley of Persimmon Woods Golf Club with a net score of three-over (+3) par to sit in second. In Flight B, Anne Moreland of Westborough Country Club also used her knowledge of the course to make her way to the top of the leaderboard with a net even (E) par. The second place position after Round 1 is held by Cynthia Rank of Old Warson Country Club at net three-over (+3) par. Debra McGinnis of Florissant Golf Club also fired a net score of two-under (-2) par to take the lead in Flight C. Carol Stampley of Whitmoor Country Club is following behind her at net one-over (+1) par in solo second.
Players will return tomorrow for the Final Round beginning at 8:00am. The Championship Flight will be the final flight to take the course in the morning. The Champion at the end of Round 2 will take home the Jayne M. Watson Trophy.