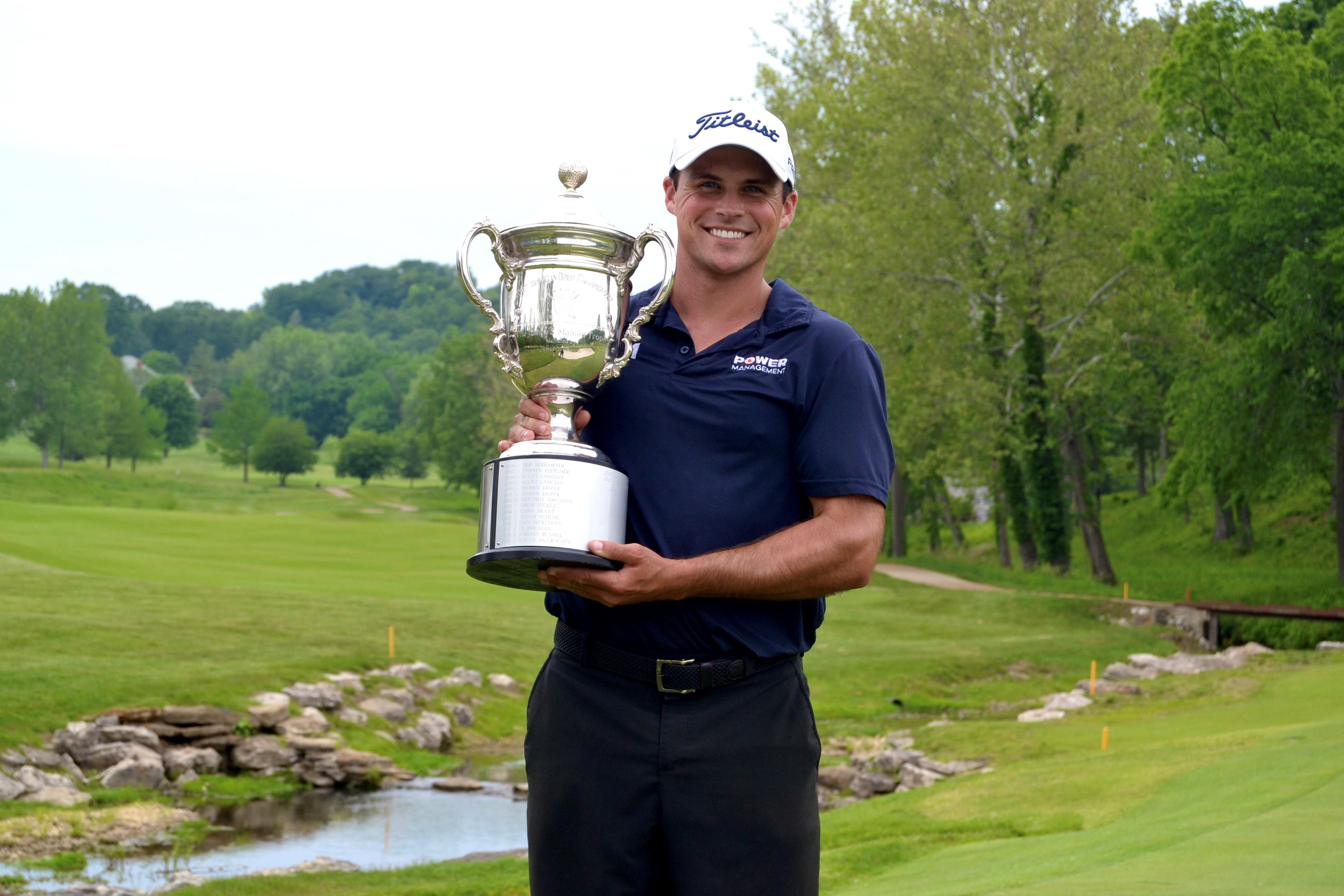 Giving It 'Hall' or Nothing: 18th Metropolitan Open Champion
St. Albans, MO
- The 18th Metropolitan Open Championship saw some fantastic golf across three days at the Country Club of St. Albans. The championship began with 154 players representing 27 different states. After Round 2, the field was cut to the low 40 and ties, which resulted in 44 players making the cut at two-under (-2) par. This is the lowest a cut score has ever been in championship history. Coming into the Final Round, Gavin Hall of Delray Beach, FL sat at the top of the leaderboard at eleven-under (-11) par. Blake McShea of Zebulon, NC followed right behind at ten-under (-10) par. David Erdy of Mainville, OH and Chris Naegel of Wildwood, MO were next in line at ten-under (-10) par. Friday's forecast called for potential rainy weather in the afternoon, but the championship was able to be completed without a drop.
Ryan Cole of Mount Airy, MD started the morning at seven-under (-7) par, and we quickly started to see his score fall further into the red. Cole showed his determination throughout his round with three birdies on the front and four birdies on the back, finishing with a bogey-free 64. This phenomenal round pushed him up the leaderboard into solo second place. Blake McShea did not have the round he wanted, but managed to stay under par with a two-under (-2) par round and a final score of twelve-under (-12) par. McShea ended the championship in solo third. Brian Richey of Winter Park, FL began the day at six-under (-6) par. Richey improved on his first and second round scores by shooting a great round of 66, five-under (-5) par, which tied him for fourth place with David Erdy. Erdy had a rough start to the day, but pushed through to come in with a score of 30, five-under (-5) par, on the back nine. This brought him to finish the round with a 68, three-under (-3) par.

Gavin Hall knew coming into the day that he needed to put together another good round to stay on top. Hall started his bogey-free round with two birdies on the front nine and continued to add four more on the back nine. His bogey-free round was almost threatened by a rogue tee-shot on Hole 17, but a lucky bounce off a drain, kicked him into the middle of the fairway. Talking about this potential setback, Hall states, "When these guys are so good, and to compete against them, you need a little bit of breaks to go your way, but I'm really happy with the way I played." He kept his mind and game steady by not looking at the leaderboard during the round. He knew he could not do anything about how others were shooting, but he could control his own game and mindset. Gavin came in at seventeen-under (-17) par, the lowest winning total score in championship history, with a final round of 65.
For the first time, no amateurs made the cut for the final round. Blake Skornia of St. Louis, MO and Ryan Sullivan of Arnold, MO were the two lowest scoring amateurs of the championship at one-over (+1) par.
Following three incredible days of golf, first-time competitor, Gavin Hall, rose to the top and is leaving St. Louis a Champion. With this win, Hall earned a $25,000 payout. Ryan Cole finished in solo second place. Blake McShea finished in solo third place. Brian Richey and David Erdy finished tied for fourth place. Tied for sixth place were Matthew Walker of Ottumwa,IA and Joe Weiler of Bloomington, IL. Finishing inside the top ten, five were tied for eighth place: Joseph Juszczyk of Dearborn Heights, MI, Van Holmgren of Plymouth, MN, Tyler Gray of Huntingburg, IN, Luke Long of Fayetteville, AR, and Brant Peaper of Tequesta, FL.
Final Full Results
Photos
We would like to say a massive Thank You to all of the volunteers that helped make this championship run smoothly, as well as, the maintenance staff that made sure the course was in top condition throughout the championship.