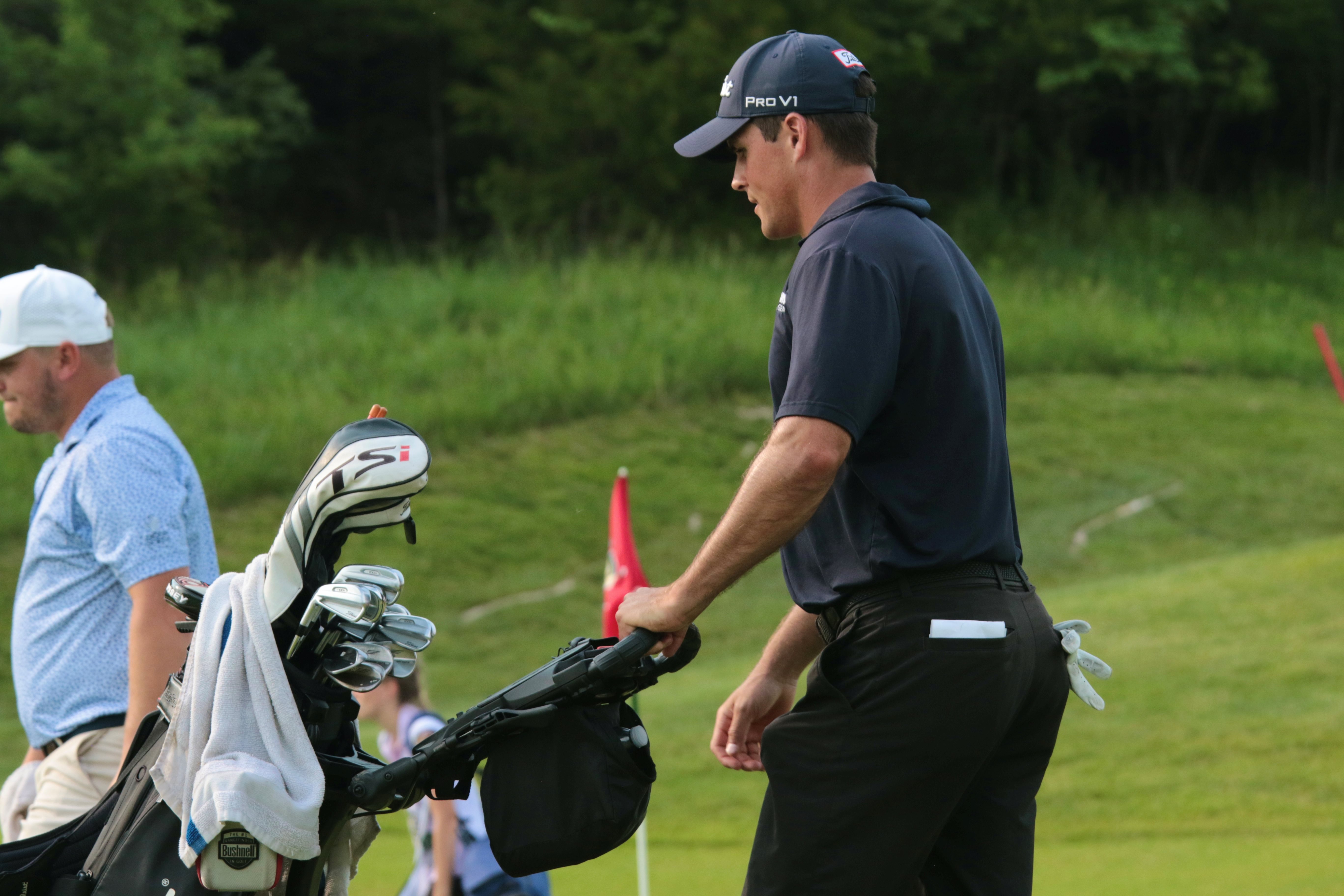 Hall Charges to the Top in Round 2 of the Metropolitan Open
It was another picture perfect day at the Country Club of St. Albans. After the results of Round 1, players knew that going low in Round 2 may be imperative to make the cut. Arriving with a mindset to tackle the course, many players in the field were able to post rounds under par again today. Going off early in the day, Blake McShea of Zebulon, NC was looking to duplicate his score from Round 1, and he did. Sitting at five-under (-5) par after around 1, McShea started on the back nine and made improvements as the day went on to have a bogey-free second nine and finish with another five-under (-5) par. This brought his total to ten-under (-10) par and gave him the solo lead. Also going out early was David Erdy of Mainville, OH. Erdy was one of the players tied for the lead at six-under (-6) par after Round 1 and fought his way around the course to not drop any strokes. He finished the day two-under (-2) par, placing him at eight-under (-8) par for the Championship.
The afternoon wave saw how the morning players were performing and were ready to take a stand. Gavin Hall of Delray Beach, FL began the day at four-under (-4) par. Aside from a bogey on Hole 10, Hall had a near perfect round with five birdies and an albatross on Hole 14. Finishing the last four holes with par, his double eagle brought him to seven-under (-3) for the day, eleven-under (-11) par for the championship, and the solo lead. Perhaps the round of the day came in the afternoon from Chris Naegel of Wildwood, MO. After finishing Round 1 one-over (+1) par, Naegel was determined to turn his game around and move up the leaderboard. He came out hot, shooting a 28 on the front nine with not just one, but two eagles. Despite a bogey on Hole 12, Naegel nearly pulled off a third eagle on Hole 14, and then finished his round with a birdie on Hole 18 to finish the day with a whopping nine-under (-9) par. This catapulted Naegel up the leaderboard to be tied for third at eight-under (-8) par.
Following around 2, the field gets cut to the low 40 and ties. The cut for this year's Championship is being made at two-under (-2) par. Forty-four players will make the cut for the Final Round.