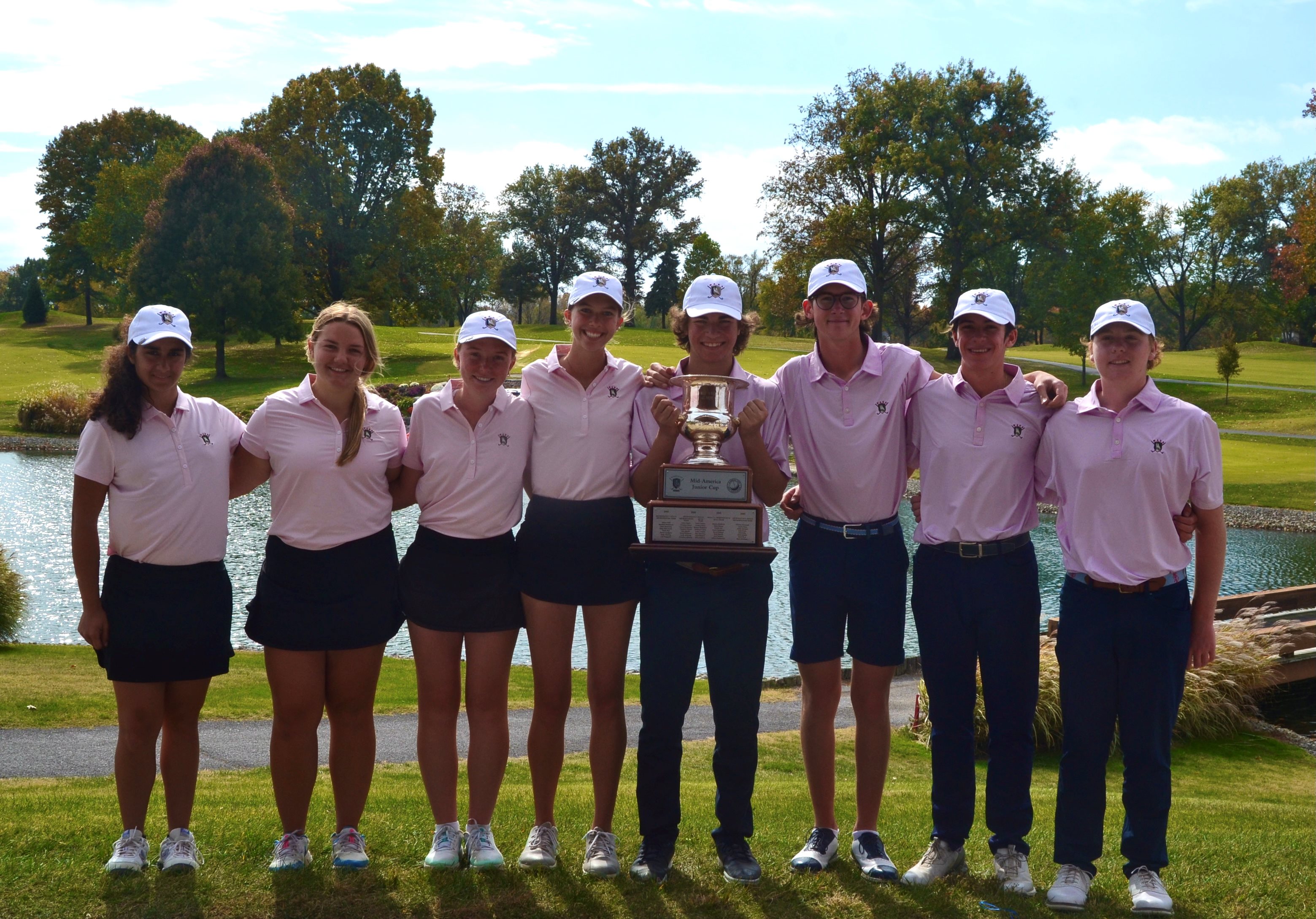 Team MAGA Retains the Mid-America Junior Cup
St. Charles, MO - The 24th Mid-America Junior Cup was one for the books. It was a tight race from beginning to end. Team Metropolitan Amateur Golf Association (MAGA) consisted of Eva Brown, KC Lenox, Isabella Buckley, Rylie Andrews, Mason Lewis, Harrison Zipfel, Harper Ackermann, and Bubba Chapman. Team Central Links Golf (CLG) consisted of Claire Sullivan, Hadley Neese, Hillary Currier, Maya McVey, Jacob Fratzel, Peyton Smith, Carson Baker, and Ty Lasley. The Cup involves each player participating in foursome matches, four-ball matches, and singles matches. The teams played the foursome matches on Saturday morning, the four-ball matches on Saturday afternoon, and the singles matches on Sunday.
Things kicked off at 8:00am on Saturday and heated up quickly. Team CLG took the early lead in Match 1 of the foursomes, going three up through four holes. Chapman and Andrews were able to minimize the lead, finishing nine holes only two down and tying the match on Hole 16. Baker and McVey for Team CLG pushed back to get to one up on Hole 17 and closed the deal on 18. In Match 2, Zipfel and Lenox started off by winning the first hole for Team MAGA, which was responded to with Fratzel and Sullivan winning the second. Team MAGA won holes 3 and 4, but then found themselves one down through nine. Determined, Zipfel and Lenox found their power again to not give up a hole on the back, and win the Match 2 at 2&1. Match 3 was neck and neck the whole way. Smith and Neese for Team CLG went one up on Hole 5, but was brought back down to a tie on Hole 7 by Brown and Lewis. Team MAGA fought hard and went one up on Hole 13, but Team CLG found a late wind to win Holes 16 and 18 to win the match one up. The final foursomes match was a fairly dominant showing for Team MAGA. Ackermann and Buckley went back and forth with Lasley and Currier on the front nine. Team MAGA started by going two up through three holes, but it was reciprocated by Team CLG on Holes 4 and 5. Team CLG made the turn one up over Team MAGA. Ackermann and Buckley were not pleased with the score at the turn, and went on to not lose a hole on the back and finished the match 3&2. The score at the end of the Round was Team MAGA 2 - Team CLG 2.
After a short break and a regroup, the teams were back on the course for the four-ball matches. Match 1 got off to a rocky start for Team MAGA, allowing Team CLG to be two up through three holes. Lewis and Zipfel did not let that deter them, and found their rhythm. Winning two holes on the front, Team MAGA made the turn one down. Continuing to push, Zipfel and Lewis lead the team to another point, winning the match 2&1. Match 2 proved the strength of Team MAGA's youngest girls. Lenox and Brown did not let Neese and Sullivan from Team CLG win a hole until Hole 14. Team MAGA won Holes 1, 5, 11, and 12 to win the match 3&2. Match 3 did not go in Team MAGA's favor. Unable to grasp a win on a single hole, Buckley and Andrews found themselves four down to Team CLG's Currier and McVey after nine holes. Team MAGA fought hard and did not let Team CLG win a hole on the back, but without a hole win themselves, they fell to Team CLG 4&3. Match 4 proved difficult for Team MAGA as well. Baker and Lasley for Team CLG took control of the match early, going four up through six. Chapman and Ackermann tried to find some strength, winning Holes 9 and 11 to close the gap in Team CLG's lead. Team CLG powered back, winning Holes 12 and 13. Wayward tee shots from Team CLG on Hole 15, allowed Team MAGA to capitalize with theirs that landed in the fairway. Starting Hole 15 at four down with four to play, Team MAGA won the hole to stay alive. All other matches had completed, so everyone was out to watch the final group. With everyone watching, Bubba Chapman sunk a putt from across the green on Hole 16 to, once again, keep Team MAGA alive at two down with two to play. With daylight running out, the two teams headed to Hole 17, where all would make par, ending the match with Team CLG winning 2&1. With the younger of the two MAGA teams winning their afternoon matches, team member Bubba Chapman said, "youngins came up big this afternoon." The score for Round 2 was Team MAGA 2 - Team CLG 2, bringing the total scoreboard to Team MAGA 4 - Team CLG 4.
With everything all square, players came back on Sunday for the singles matches starting at 8:00am. The eight matches started with the girls, followed by the boys. Match 1 was between KC Lenox of Team MAGA and Claire Sullivan of Team CLG. Sullivan started out winning the first two holes and continued to win six of the first ten holes. Lenox kept the score within reach by winning three holes on the front nine. She went into the back nine two down and found her groove on Hole 12. Lenox got the match back to a tie, then to one up, and sealed the deal with a birdie on Hole 18 to win two up and get Team MAGA their first point of the day. In Match 2, Eva Brown for Team MAGA faced Hadley Neese. Neese led one up after two holes, but Brown took over on Hole 3 and never gave up the lead. Brown was four up at the turn. Neese tried to make a comeback on the back, winning three holes, but Brown ended the match 3&2 with wins on Holes 16 and 17. Match 3 and Match 4 were rough for Team MAGA. Hillary Currier for Team CLG took an early lead over Isabella Buckley in Match 3. Buckley was only able to win two holes in the match, falling to Currier 4&3. Rylie Andrews for Team MAGA was also only able to win two holes in the match. After Andrews won the second hole, Maya McVey came back to win the next three holes. Three down through nine, Andrews was unable to push back against McVey and lost the match 7&5.
The boys for both Teams never gave up the fight, each taking it to the 18th green. In Match 5, Jacob Fratzel of Team CGL took the early lead, winning the first two holes, but Harrison Zipfel of Team MAGA responded by winning the next two. Each time one player went one up in the match, they found the other reciprocating within the next few holes. Fratzel went into Hole 18 one up, but was unable to close, letting Zipfel win the hole and finishing the match Tied. Match 6 was between Mason Lewis for Team MAGA and Peyton Smith for Team CLG. Smith started the round strong, winning the first three holes. Lewis never gave up, winning Holes 4, 6, and 8 to make the turn just one down. Lewis only allowed Smith to win one hole on the back, and kept the match tied from Hole 15 all the way to the clubhouse. Bubba Chapman on Team MAGA and Carson Baker on Team CLG went back and forth, each winning every other hole through Hole 7. Making the turn, Baker was one up, but Chapman responded by winning Holes 10 and 11, followed by Baker winning Holes 12 and 13. Wayward tee shots on Holes 14 and 15 by Baker opened the door for Chapman to win the holes and regain the lead. On Hole 17, Baker won the hole to tie the match and the pair moved on to the last. Both making par, Match 7 ended Tied. Much like the other boys matches, Team CLG took the early lead in Match 8 with Ty Lasley winning the first two holes. Harper Ackermann fought back hard to bring the score back even for Team MAGA. He won Holes 3 and 5 to complete nine holes with a tied match. After winning Hole 10, Ackermann let Lasley come back in to win Holes 12 through 15. Three down with three to play, Ackermann decided to make things interesting for his team. He made a crucial putt to Birdie Hole 16, which sent the match to Hole 17 with a score of Team CGL two up with two to play. Once again with the putter in hand, Ackermann made the Par putt that would win him the hole, sending the match to the final hole. With everyone from both Teams watching, Ackermann for the third time held his putter in his hand. Lasley had left his third shot - a chip from off the front of the green - shy of the hole, giving Team MAGA a chance. Ackermann was looking a Birdie, and, third times the charm, sunk the putt the hole winning putt to bring the match to a close Tied.
For the Singles Matches round, Team MAGA gained 4 points and Team CLG gained 4 points. This brought the Final Scoreboard to read Team MAGA 8 - Team CLG 8. With the teams all square, Team Metropolitan Amatuer Golf Association retain the cup due to being the defending champions. The kids played their hearts out and the competition was fierce. The drama and suspense stayed until the last putt dropped. It was an incredible weekend playing against Team Central Links Golf, and Team MAGA is looking forward to being back next year to defend the title again in Kansas City.

Final Results | Photos