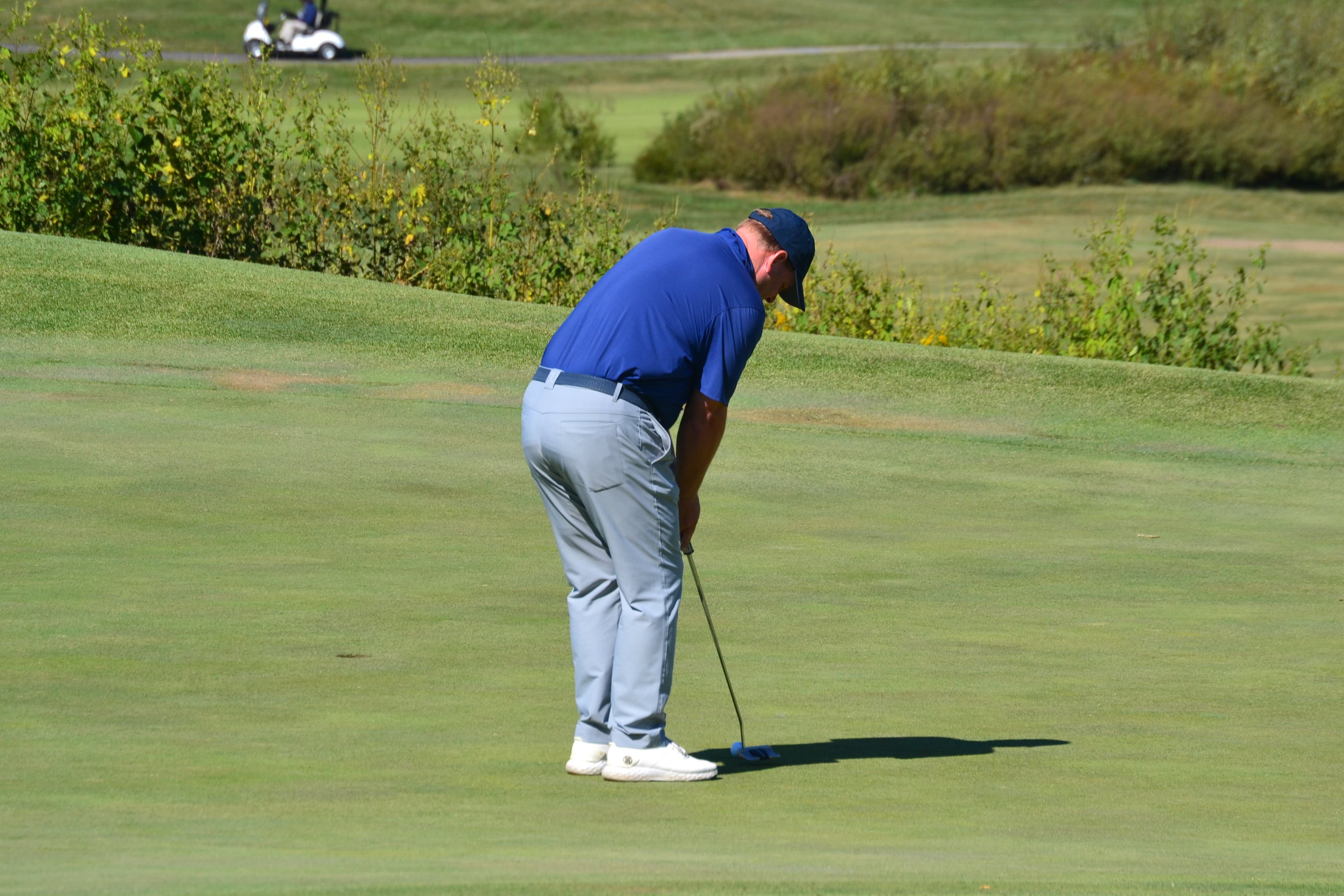 30th Senior Amateur Round 1 Recap
Eureka, MO - It was a busy day at Aberdeen Golf Club for the first round of the Metropolitan Senior Amateur. The morning kicked off at 7:30am with a temperature in the 40's. The sun was shining and raised the temperature to 73°F with a cool breeze over the course of the day. The championship consisted of 6 Divisions: Championship, age 50-59, 60-64, 65-69, 70-74, and 75+ (net and gross in each division except championship division).
In the Championship Division, players are giving it their all with 14 players within 5-shots of the lead. Leading the pack at three-under par is Brian Lovett. Lovett completed his round with six birdies. Following closely at two-under par and tied for second are James Storey and Tim Barry. Barry made an eagle on Hole 17, and nearly got by with a bogey-free round until his bogey on Hole 18. Sitting comfortably just two-shots back from the lead is Didier Villard at one-under par.
For the age divisions, players compete on a gross and net leaderboard. Nicolas Matrisotto leads the 50-59 year old group at six-over par. With handicaps applied for net scores, Jim Modlin is leading at one-under par. In the 60-64 year old division, Brett Combs came in at one-over par, and Matt Hall leads the net leaderboard at two-under par. Gordon Smith is leading the 65-69 year old group at two-over par with Kevin Ortyl taking the lead with a net score of two-under par. The 70-74 year olds came in strong with Jim Dunn leading at one-over par and Tom Leahy leading in the net scores at five-under par. Bill Wirtz took the lead in the 75 and older group gross scores while, handicaps applied, Bill Braun leads the net scoreboard.
In Round 1, there were four eagles, one made by Tim Barry, John Hughes, Brett Combs, and Tom Leahy. Two notable moments from the day came from Vincent Featherson and Pat O'Neill, both on Hole 10. Featherson made a chip that landed and bounced right on the lip of the cup (leaving a ball indention on the cup - that was promptly fixed) before rolling away from the hole. He was then left with a putt from about 15 feet for par, which he sunk. O'Neill came in a few groups after Featherson, when he drove the green, giving himself an opportunity for eagle. The putt was just shy of going in, and he finished the hole with a birdie.
All players had completed their rounds by 4:32pm. The Championship Division played approximately 6,660 yards. The age divisions between 50 and 64 played approximately 5,919 yards, and the players 65 and up played approximately 5,620 yards. We will see everyone again tomorrow for the Final Round starting at 8:00am.