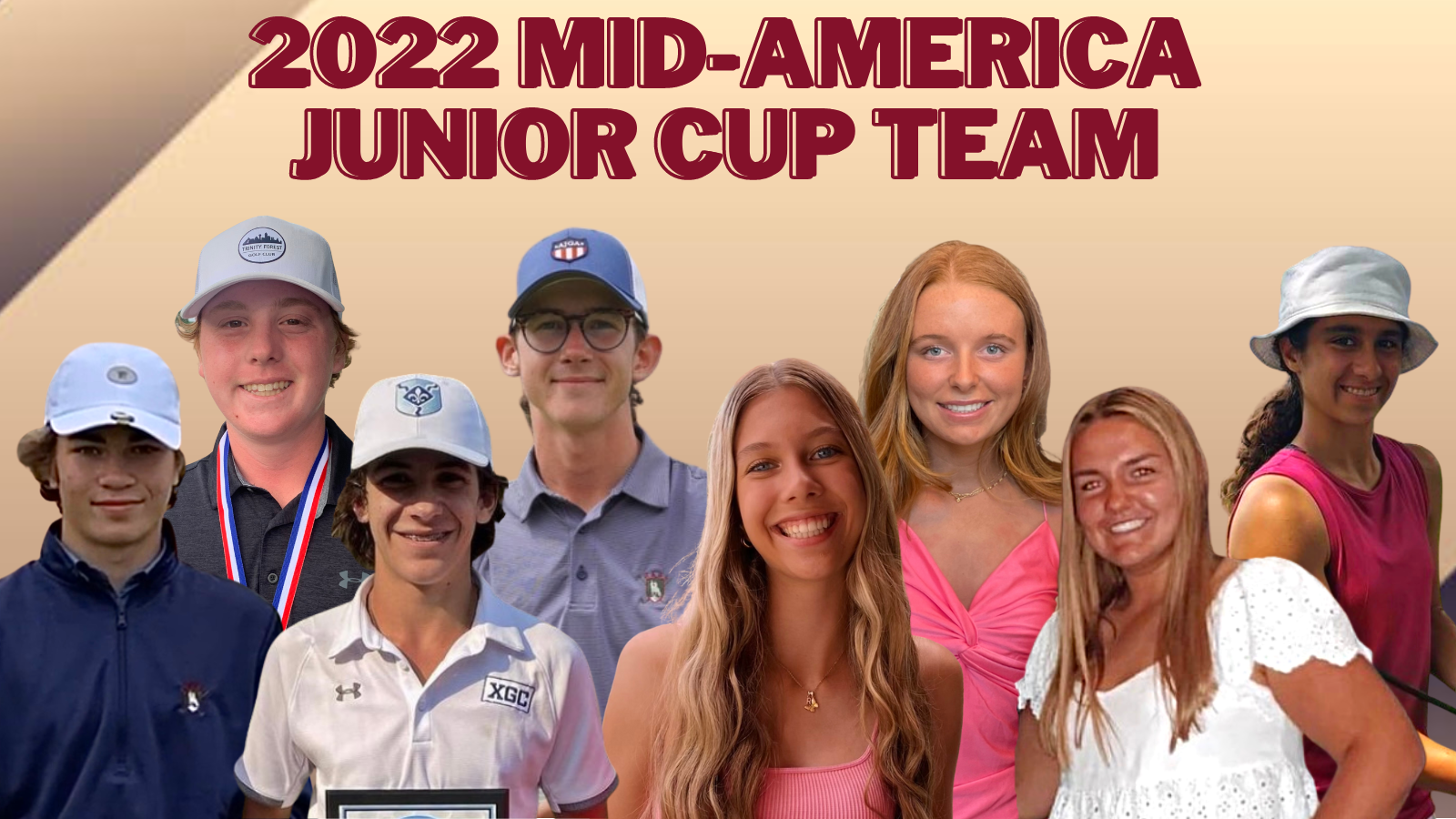 Mid-America Junior Cup Team Announced
St. Louis, MO
The 2022 Mid-America Cup is upon us and the team has been selected. Some of the best junior golfers in the area will be facing off against the best from Central Link's (formerly Kansas City Golf Association) junior golfers at Bogey Hills Country Club on October 22-23. The teams will face off in foursome, four-ball, and singles matches over the course of the two days.The teams consist of two golfers for each of the four divisions: Boys' under 16, Girls' under 16, Boys' 16 and over, and Girls' 16 and over. We have a strong group of golfers this year, so let's meet Team MAGA:
Boys' under 16
Harrison Zipfel - The Mid-America Junior Cup first timer is a freshman at St. Louis University High School who plays out of Norwood Hills Country Club. Zipfel's proudest golf accomplishment is shooting nine-under par in a tournament. His favorite golf memory is playing Payne's Valley with his friends. Zipfel most recently shot a 69, two-under par, in the Final Round of the Accelerated Golf Tour's tournament at The Missouri Bluffs Golf Club to win by five-strokes.
Mason Lewis - Also a team rookie, Lewis is a sophomore at Edwardsville High School and plays out of Sunset Hills Country Club. He has already proven his skill by shooting 71 and being the first freshman in his school history to win an individual championship in an IHS regional tournament, which helped get his team to the state sectionals qualifying. Some of his proudest accomplishments are playing in the 2021 IMG Academy Junior World Championship and finishing tied for 9th at the AJGA Future Legends Junior Championship in Wisconsin. Lewis also made his first hole-in-one in the 2021 AJGA Junior All-Star at Urbana championship.
Boys' 16 and over
Bubba Chapman - Chapman is a Mid-America Cup veteran as he played on the 2020 and 2021 teams. He is a junior at Chaminade College Preparatory School and plays out of Bellerive Country Club. He proudly holds an AJGA Top 5 in the Stan Utley and Mid-America Youth Golf Foundation Junior Championship, and has a Rolex AJGA ranking of 567. His favorite golf memory is playing in the Mid-America Cup last year.
Harper Ackermann - Also a member of the 2020 and 2021 teams, Ackermann is a sophomore at Christian Brothers College High School who practices out of Tower Tee. He is a proud member of the 2019 World Van Horn Cup team at Pinehurst No. 2. This past school year, Ackermann helped the CBC golf team win District and qualify for the State Championship. His favorite golf memory is getting to play St. Andrews.
Girls' under 16
Eva Brown - The Mehlville High School freshman that plays out of Tapawingo National Golf Club is returning for a second time to the team. Her experience from 2021 will benefit the team. Brown is proud to say she has been working hard to improve her game. She played in an Underrated Golf Tour qualifier, and successfully became a member for the 2023 tour season. In April, Brown finished in 8th in the AJGA Preview at Shirkey in Richmond, MO, just one-stroke behind fellow Mid-America Cup teammate Rylie Andrews.
KC Lenox - Lenox is a new member to the Mid-America Cup team. She is a sophomore at St. Joseph's Academy and plays out of Old Hickory Golf Club. Lenox is a member of the SJA golf team and her proudest golf accomplishment is winning the state championship with her team. She has shown she is a strong golfer as she won the Accelerated Golf Tour event at Aberdeen Golf Club in July, as well as the Gateway PGA Junior Tour event at Old Hickory Country Club. She also came in first at the Missouri Golf Association's Junior Amateur in the Girls' 14-15 Division this summer.
Girls' 16 and over
Isabella Buckley - A Mid-America Cup rookie, Buckley is a junior at St. Joseph's Academy that plays out of WingHaven Country Club. Back in August, she proudly won the PGA Junior Tour Championship at Winghaven by six-strokes over the competition. Just before this win, she had been working on her game with a new driver in the bag. Her favorite golf memory is shooting under par for the first time in a recent golf match.
Rylie Andrews - No stranger to the Mid-America Cup, the 2019 and 2020 team member is returning for another go around. Andrews is a senior at St. Joseph's Academy, who plays out of Forest Hills Country Club. She has built up her resume with SJA's golf team. She is proud to be a part of the back-to-back (2020-2021) Champion Missouri State High School Team. She was also All-State last year. In April, Andrews finished tied for sixth in the AJGA Preview at Shirkey in Richmond, MO.
This match-up has been taking place since 1999. Over that time, Team MAGA has won 10 times, Team KCGA/CLG 9 times, and the teams have tied 4. Team MAGA was the champion last year and are ready to bring it home again this year. We will see you at Bogey Hills!