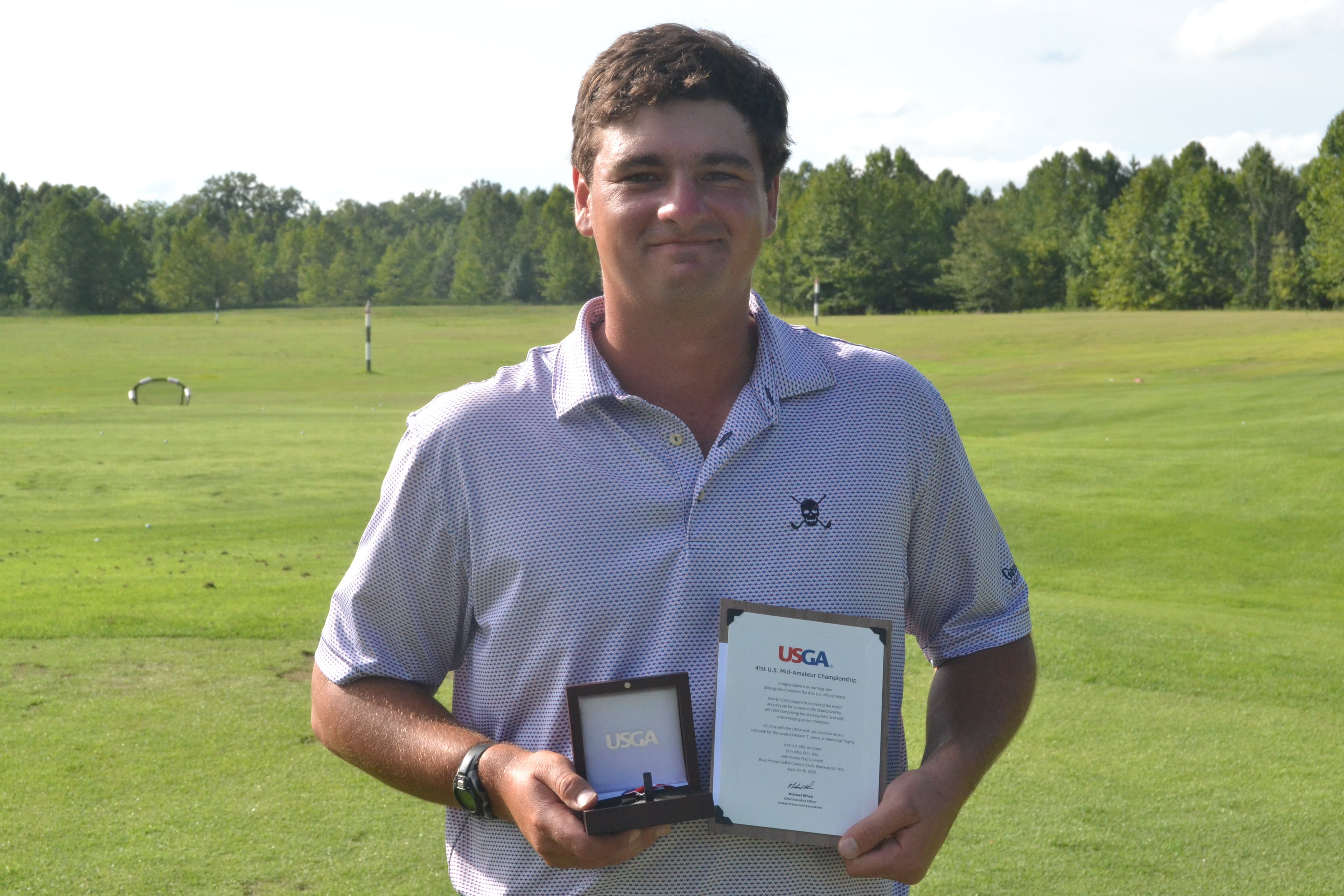 MAGA Conducts US Mid-Amateur Qualifier at Dalhousie Golf Club
Scoring
Cape Girardeau, MO – MAGA qualified four players for the US Mid-Amateur at Dalhousie Golf Club Tuesday.
Tyler Hitchner of Tuscaloosa, AL took first in the qualifier shooting -5 on the day including six birdies and only one bogey across 18 holes. The rest of the qualifying field was rounded out by Ryan Sullivan of Arnold, MO, Michael Becker of St. Louis, MO and Brad Nurski of St. Joseph, MO who all tied for second at -4.
It has been a especially big week for Ryan Sullivan who is just coming off of a runner-up finish at the Metropolitan Amateur Championship and has now finished second in two tournaments in three days.
Hitchner was excited about his victory and the opportunity to play in the US Mid-Am saying "I feel great, I'm pumped for Erin Hills, it's gonna be a lot of fun." He attributed his performance today to his ability to put together a clean round with very few mistakes, along with a few lucky breaks.
He also commented on the strength of the field at the qualifier saying that "it was a battle out there today, I had to bring my A-game." Hitchner felt that the softness of the greens paired with the pin placements really allowed him to be aggressive with his putter and find some birdies out on the course.
"It really took not just good play, but good breaks," said Hitchner about his round, "on a normal day I would say with the game I had I'd shoot probably a 70, and I'd be going home, but some days you get the breaks, and that's what it takes."
While rain and thunderstorms were anticipated Tuesday players were able to skate by with just 30 minutes of rain, avoiding lightning and a suspension of play.
The qualifier at Dalhousie included a field of 91 golfers, helping to make up the record 5,708 entries in the qualifying round, surpassing the USGA's previous record of 5,339 set in 2021.
264 of those competitors will become qualifiers and play in the US Mid-Amateur, made up of amateur golfers who are not competing in college golf. The US Mid-Am will be played from Sept. 10
th
-15
th
at Erin Hills Country Club and Blue Mound Golf and Country Club in Wis.
For the second time this summer in a MAGA USGA Qualifier, the first and second alternate spots were decided by a playoff. After two holes Sean Brennan took the first alternate spot and Matthew Lewis fell to second alternate.