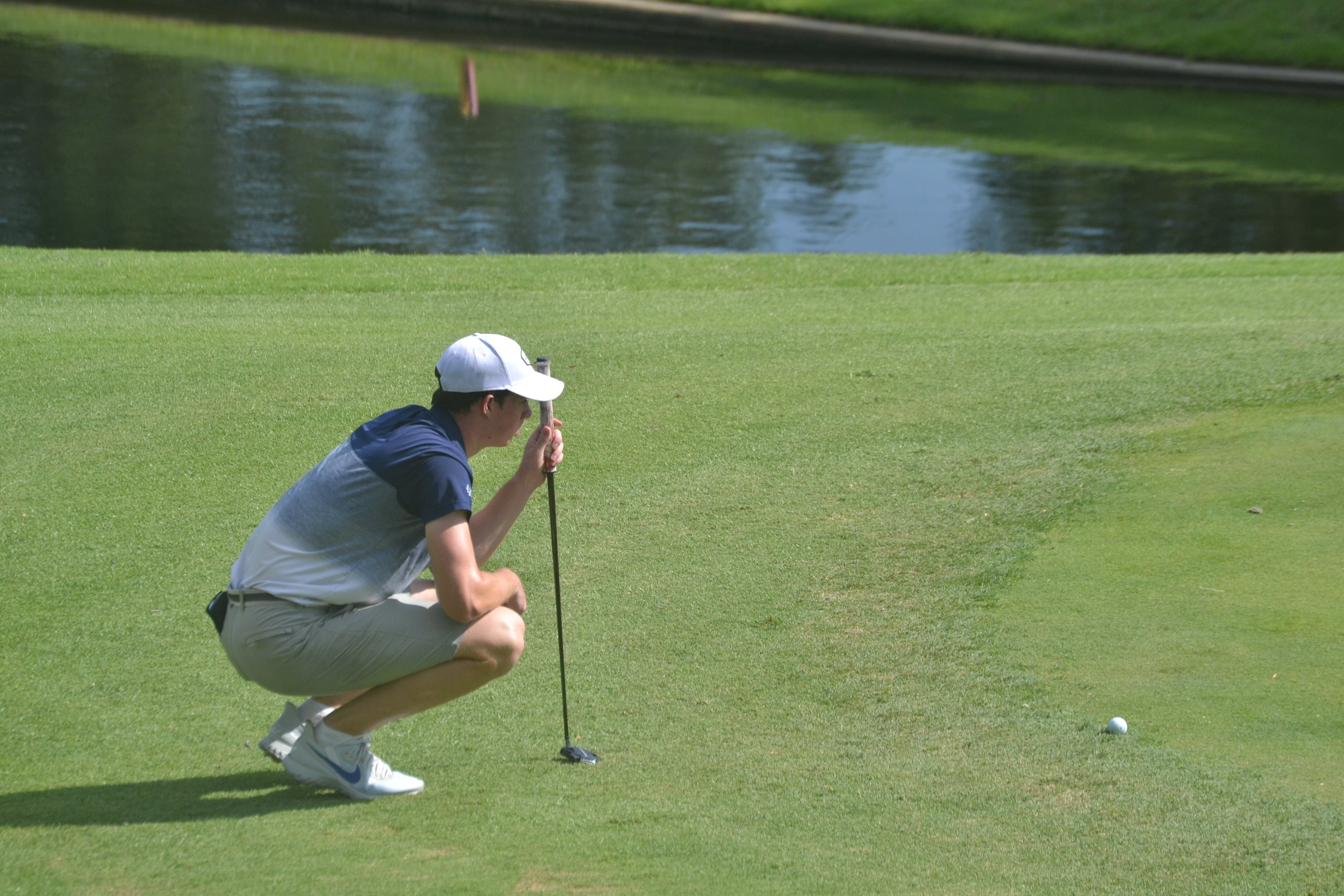 Linenbroker maintains his lead going into the final round of the Metropolitan Amateur Championship
Scoring
Ladue, MO – Tyler Linenbroker held on to maintain his lead into the final round while shooting +2 over on the day and falling to -4 on the Championship. Heat was a factor in the 2
nd
Round as the heat index reached 105 degrees while the humidity eclipsed 50%.
The 2
nd
Round of the Metropolitan Amateur Championship was full of action with plenty of movement on the leaderboard. While Linenbroker maintained his lead through Saturday the same could not be said for the field behind him.
Shawn Jasper, who finished in second after the 1
st
Round, shot +2 on the day and dropped into third. Several other leaders from Friday had a difficult day on the course as well. Corey Choate and Robert Hogan who both finished tied for third Friday fell to 8th and 17th respectively.
The real stories of the day came from Curtis Brokenbrow and two-time Metropolitan Amateur Champion Drew Pranger who both posted strong scores to climb their way up the leaderboard and back into contention.
Brokenbrow came back from a +3 finish on Friday shooting -4 in the second round to climb into 4
th
place. Brokenbrow had an up and down day with three bogies on the round while also managing to post seven birdies.
Brokenbrow stressed the importance that his putting had in his 2
nd
round stating that it was the difference maker between his +3 round on Friday and his -4 finish today. Brokenbrow also spoke on the difficulty of the course at Old Warson saying that "it just all represents the type of golf course this is, it's a true championship golf course and if you're just a little bit off then you'll rack up a bogey or a number real quick."
Pranger, who finished Friday at -1 propelled himself into second with a score of -2 on the day bringing him to -3 on the Championship. Pranger said that "it really hadn't crossed my mind where the lead was at" and that "a lot can happen out here good or bad if you hit good shots and hit it in the right spots so I was really just trying to focus on that." Pranger will be playing for his third Metropolitan Amateur Championship Sunday morning.
Linenbroker had a difficult round Saturday posting four bogeys on the day, however his strong performance Friday was enough to keep him in the lead going into the final round. Linenbroker said that he was not feeling "as great as yesterday, but we'll take it" following his round.
"It's a tough course in general" said Linenbroker, commenting about his performance, but Linenbroker remained calm stating that all he needed for the final round was for "a few more putts to fall" and to "stay confident."
33 golfers will take to the course for the final round Sunday morning with tee times starting at 7:00 A.M. to decide a champion.