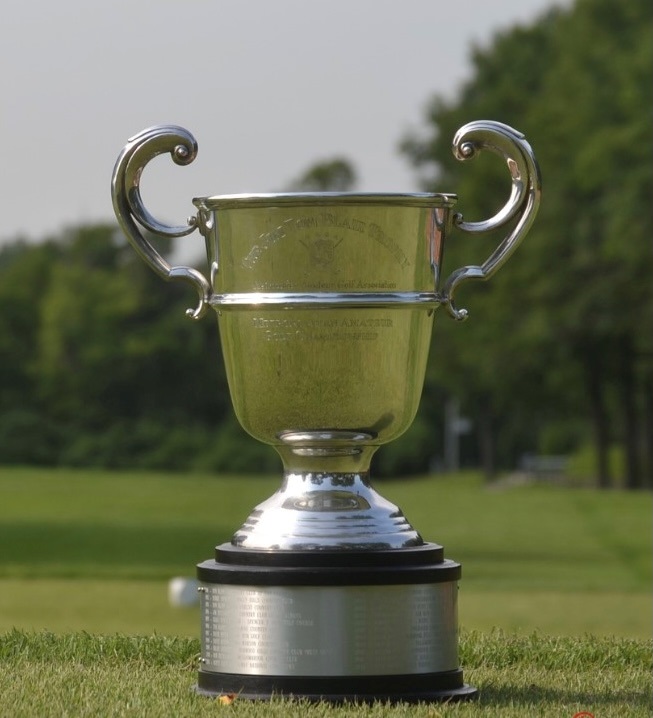 Metropolitan Amateur Preview - History of Old Warson
The 32nd Metropolitan Amateur is set to take place on August 4-6 at Old Warson Country Club. The field is set with 156 of the region's best golfers. All golfers will play two eighteen-hole rounds before the field is cut to the low 40 and ties for the final round. The competitors are gearing up and ready to walk the fairways of a great course, the same ones as some of golf's greats.
Old Warson is a club rich in history, not just in St. Louis but on a national level as well. The club began construction in 1953 and was designed by Robert Trent Jones Senior. During this time, the first superintendent, Oscar Bowman, and club professional, E.J. "Dutch" Harrison, were hired for the club. E.J. was a former three-time Ryder Cup team member and Vardon Trophy winner. His professional golf career was one of the longest in PGA Tour history, spanning over four decades. In 1954, the course was officially opened through an all-member tournament.
Since its inception 68 years ago, the course has been a host to many great events, most notably the 1971 Ryder Cup. Team USA consisted of Jay Hebert (Non-playing Captain), Miller Barber, Frank Beard, Billy Casper, Charles Coody, Gardner Dickinson, Gene Littler, Jack Nicklaus, Arnold Palmer, Mason Rudolph, J.C. Snead, and Lee Trevino. Team Europe consisted of Eric Brown (Non-playing Captain), Harry Bannerman, Brian Barnes, Maurice Bembridge, Peter Butler, Neil Coles, Bernard Gallacher, John Garner, Brian Huggett, Tony Jacklin, Christy O'Conner Sr., Peter Oosterhuis, and Peter Townsend. Team Europe took the early lead on Thursday, but Team USA came back, taking the lead on Friday and never letting go. This USA victory came during the last Ryder Cup that would include Arnold Palmer, Jack Nicklaus, and Lee Trevino, as well as Palmer's final Ryder Cup run.

Starting in its early years, Old Warson opened its doors to hosting national golf championships. In 1957, the Western Amateur was held at Old Warson. Phil Rodgers, at the age of 19, set the competitive course record for the original course, shooting a 68 during his second round. This would be the last year of the original course design. The course would then go on to be redesigned and host the first national golf event since - the 1958 U.S. Open 36-hole qualifier. The scores from this qualifier proved to be some of the all-time best. Resident Head Pro, E.J. "Dutch" Harrison, and Glen Echo head professional, Don Clarkson, were two of the qualifiers with afternoon rounds of 68 and 69, respectively. The third qualifier was a Westborough Country Club assistant, Frank Keller, who recorded a 65, which is still the course competitive record today. Dutch Harrison would go on to finish tied for 23rd in that U.S. Open.
The path continued into 1962 when Old Warson hosted the Trans-Mississippi Men's Championship. The Trans-Miss Amateur started in 1901 and is still played today. Local St. Louisian, Bob Cochran, lost in his semi-final match to the eventual winner Bob Ryan. As mentioned before, the Ryder Cup was held in 1971. There was then a break until 1999, when the club hosted the 19th U.S. Mid-Amateur Championship. The starting 36-holes stroke-play qualifying was divided between Old Warson and Bellerive, with the scores averaging 78 for Old Warson and 78.4 for Bellerive. With a par 71, the cut was made at 9-over par (151) and there was a twenty-two man playoff for twelve remaining match-play spots.
In 2009, Old Warson hosted the U.S. Women's Amateur. A 16-year old Jessica Korda shot 67 to break the women's competitive course record. Danielle Kang was the medalist with a two day total of 138. The most recent USGA championship hosted at Old Warson was the U.S. Senior Amateur in 2016. First-timer Dave Ryan of Illinois won the championship, knocking out two two-time USGA championship winners. During his run, Ryan had the third known hole-in-one on a par-4 in a USGA championship. Many other PGA and USGA sectional and qualifying rounds have taken place at Old Warson over the years.
Old Warson Country Club has been supportive of local amateur championship golf as well. It has been host to St. Louis Men's and Women's District Championships and the Missouri State Amateur. Over the years, it has been a gracious host to the Metropolitan Amateur Golf Association. Championships held by MAGA at Old Warson include the Metropolitan Amateur, the Metropolitan Junior Amateur, and since 2003, the Metropolitan Amateur Match-Play Championship, better known as the Old Warson Cup.
MAGA's best amateurs will now take on these same fairways and greens in the coming week. 199 total entries were received for this year's Metropolitan Amateur. The field size was brought down to 156 total players based on their handicap indexes. All competitors will have to bring their A-game with the strong field that has registered. There are nine former Metropolitan Amateur Champions returning in the hopes to win another, as well as a few Missouri Amateur Champions looking to hoist the trophy on Saturday.
There is a 47 year range in the age of competitors, with the youngest applicant, Mason Lewis, coming in at 15-years old and the oldest being Robert Beckman at 62-years old. Despite the age difference, the field contains many incredible golfers across the board. Current Metropolitan Junior Amateur Champion, Ryan Hopwood, is looking to make it two wins this summer. The 2021 Junior Amateur Champion, John Guerra, is also throwing his hat in the ring, along with former junior champions Braden Hoisington (2019), Zach Walsh (2018), Max Kreikmeier (2017), Joseph Terschluse (2015), Christopher Ferris (2013, 2014), and Justin Bryant (2006). On the other end of the spectrum, the 2018 and 2020 Senior Amateur Champion, Buddy Allen - who also just qualified for the 2022 U.S. Senior Amateur - is ready to take on the competition.
The nine former Metropolitan Amateur Champions back for more action this year are Brad Carpenter (2019), Brian Kennedy (1999), Christopher Ferris (2020), Drew Pranger (2016, 2018), Ryan Penfield (2011), John Kelly (2004), Richard [Skip] Berkmeyer (2009), Robert Beckmann(2000), and Shawn Jasper (2017). Drew Pranger is tied for the most victories at 2 with four other golfers, but could take a solo hold on that record with a win this year. The five former Missouri Amateur Champions competing this year are reigning 2022 Champion Chad Niezing, Curtis Brokenbrow (2021), Sam Migdal (2016), Robert Beckmann (1993), and Skip Berkmeyer (1999, 2009, 2011).
Some in the field have already proven their abilities to make their way around Old Warson, playing the Old Warson Cup. Five Metropolitan and/or Missouri Amateur Champions listed above have also won the Old Warson [or Taylor] Cup: Skip Berkmeyer (Taylor Cup 2001, 2002; Old Warson Cup 2007, 2008, 2009), Shawn Jasper (2005), John Kelly (2006), Drew Pranger (2018), and Sam Migdal (2016, 2017, 2021). Other players that have won the Old Warson Cup include Phil Caravia (2014) and Justin Bryant (2011, 2012). Five competitors in the field are members of Old Warson Country Club, hoping to have a home course win.
It is shaping up to be a memorable Metropolitan Amateur at Old Warson. As mentioned previously, the entire field will play 36 holes - 18 on Thursday, 18 on Friday - before being cut to the low 40 and ties for the Final Round on Saturday. One player will walk away with the Jim Tom Blair championship trophy, and add their name to the list of best amateur golfers in St. Louis. Who will it be?
Tee Times: https://www.golfgenius.com/pages/3379784
Course Overview: https://www.oldwarson.com/web/pages/the-course
Course History: https://oldwarson.com/history
Championship History: https://www.metga.org/metropolitan-amateur-championship-champions