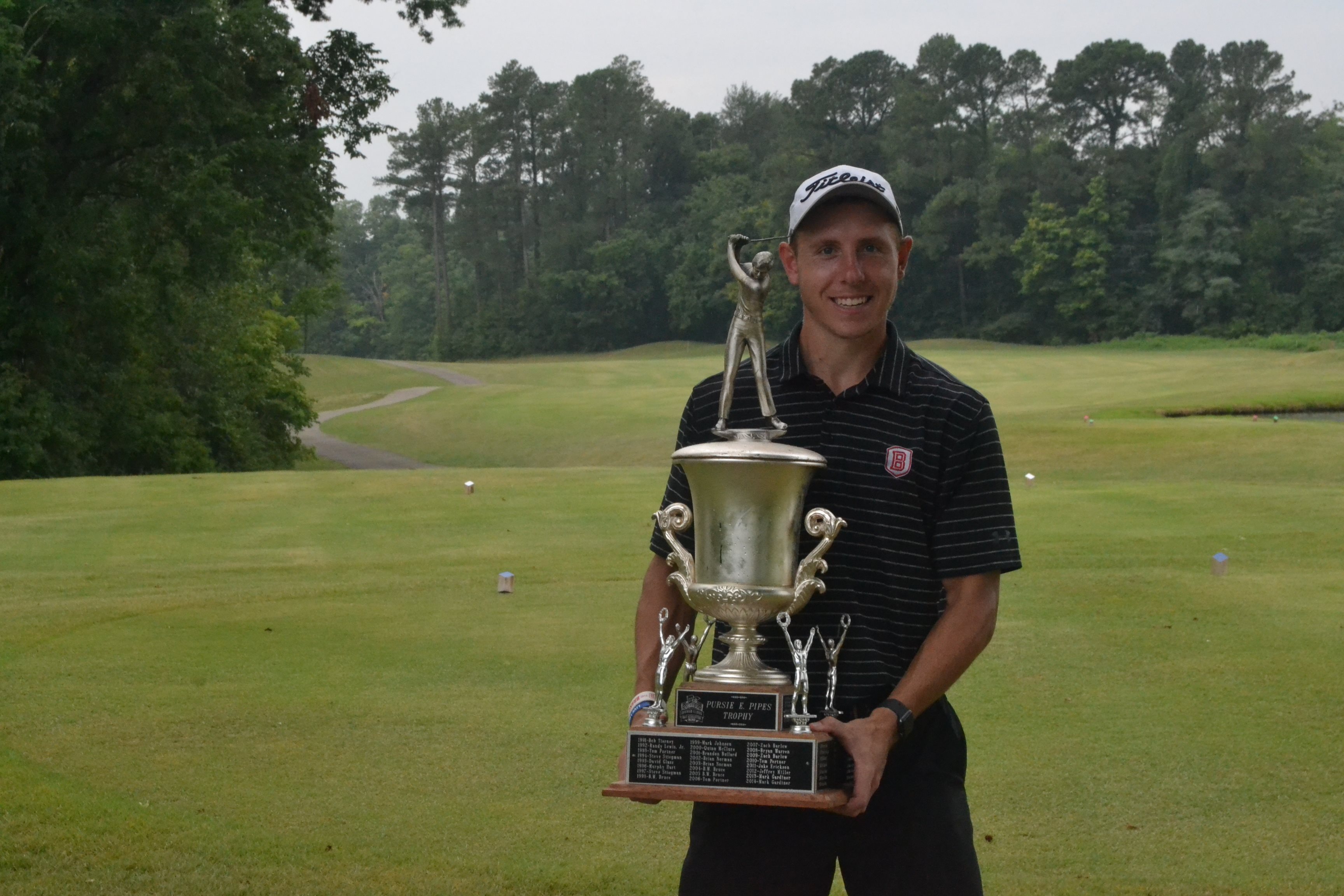 Alex Ciaramitaro wins the 98th SIGA Championship
Scoring:
https://www.golfgenius.com/pages/3380465
Carbondale, IL – Alex Ciaramitaro has won the 98
th
SIGA Championship with a final round score of 66. Ciaramitaro came from behind as he was tied for second at the start of the action Sunday morning. Ciaramitaro had to survive a late round challenge from SIU Carbondale Saluki Carsen Silliman who shot 69.
Ciaramitaro was an impressive -6 on his round Sunday where he started off with a bogey-free front nine including an eagle on the sixth hole. Ciaramitaro then proceeded to light up the back nine posting four birdies in five holes from 11 to 15.
In the Women's Championship Ashleigh Reeves, who finished tied for first with Emma Hill on Saturday, was able to pull ahead for the victory over Hill, who finished tied for second with Adrian Brown.
Joseph Malench claimed victory in the Senior Championship with a score of 73 in the final round while James Woodward hung on to his round one lead to win in the Super Senior Championship. Kathleen Duncan and Kerry Hammond also carried round one leads into Sunday and were able to capitalize winning the Senior Women's Championship and Women's Net Championship respectively.
Hammond had an especially strong showing including rounds of 69 and 70 to finish at -5 for the weekend including an eagle on 14.
Brock Naile took the lead in the Junior Boy's Championship and never looked back although he did face a second-round challenge from runner-up Aidan McFadden who finished just two strokes behind the leader. In the end Naile finished strong to claim the trophy.
Camryn Luthy battled back from second Sunday morning to take a narrow victory in the Junior Girl's Championship against Giorgia Thoms. The two went back and forth throughout the final round and there were never more than two strokes of separation between the two Sunday. Luthy then sank a crucial Birdie on the 14
th
hole to take the lead.
Players were lucky to see good conditions Saturday as a storm narrowly missed Hickory Ridge although they did face strong winds in the afternoon. They were not as lucky Sunday morning when the first group teed off with ominous storm clouds rolling in from the northeast.
They would eventually reach the course leading to heavy rain during the morning which forced a two-hour weather delay and continued spurts of rain throughout the remainder of the round.