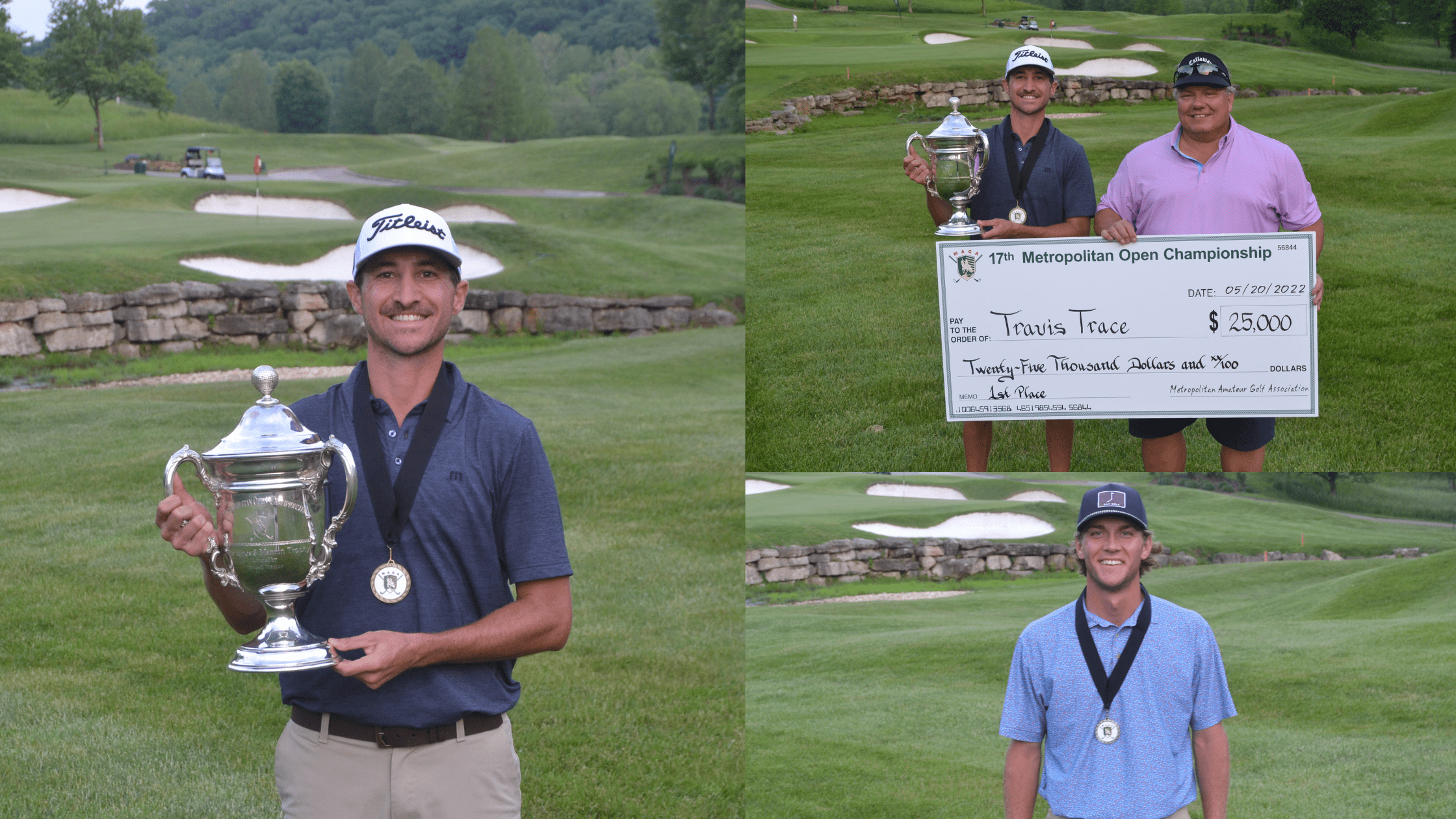 Trace Goes Wire-to-Wire to Win Metropolitan Open
St. Louis, MO - Travis Trace of Jacksonville, FL made his first start at the Metropolitan Open Championship worth the trip to St. Albans. The 25 year old University of North Florida product has spent time on PGA Tour Canada in 2019 and 2021. This week at the Country Club of St. Albans he fired rounds of 65-66-71-202 (-11) to capture the title and $25,000 first prize.

It was a tough 3 days with Mother Nature not cooperating. Round 1 was pushed back 1-hour to start on Wednesday morning because of storms in the area and darkness prevailed with a couple holes to play on each side. With the afternoon wave being on the course, Round 2 was able to start on time Thursday morning. However, a suspension in play at 11:10am and another at 4:20pm took care of the rest of the day calling for a long Friday.
Round 2 was restarted at 7:00a with 8 groups who had not even started Round 2. Friday's beautiful weather was welcome by the field. Round 2 completed at 12:30p, the cut was made and the final round went at 1:00pm with 44 players making the cut, including 4 amateurs. Trace led after Round 2 with the 11-under score and had a 4-shot cushion going into the afternoon.
Luke Schniederjans of Alpharetta, GA had the low round of Round 3 with a 5-under 66 to move up the leaderboard. Trace's lead was never really threatened throughout Round 3, maintaining a 4-shot advantage most of the entire way. He would bogey 18 to win the championship by 3 over Kaylor Steger of Mt. Pleasant, WI.
Four amateurs made the cut, the most in quite some time at the Open. Alex Locke, who earlier won the Old Warson Cup, would come out as Low Amateur with a 6-under par performance with 3 rounds of 69. 2021 low amateur Curtis Brokenbrow made the cut again in 2022 and finished T18. Peter Weaver and Zach Walsh were the other 2 amateur to survive the cut.